Angel Family Experience with a Safety Sleeper
Angel Family Experience with the Safety Sleeper
By Stephanie Moyer, Mom to Colin age 8
We have been using the Safety Sleeper for our son Colin for more than a year now. It has been a total game changer. Colin went from being up three to four hours every night, and he would kick the door and wake up the whole house. Since we received The Safety Sleeper, he sleeps 12 hours every night! We have seen the greatest difference when we travel. Before, we would go on vacation and Colin would average two hours a night — not much of a vacation! Now, we take his bed, and he sleeps 12 hours! I can break down the bed, and even check it on a plane (it weighs about 25 lbs).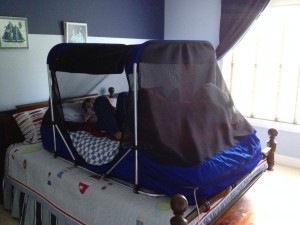 Colin is eight. A typical eight-year-old could sit and watch TV while you showered. But everyone who loves an angel knows that is IMPOSSIBLE. But now, I'll put Colin in his bed, with his iPad and take a shower knowing he is safe. The bed is also great when Colin is over stimulated. Sometimes he even asks to go in the bed with his iPad for quiet time to calm down.
The bed is a twin size, and it sits right on his mattress. It looks more like a spaceship than a bed. When friends come over, they always ask if they can play in Colin's bed – they think it's so fun! I'm waiting for my typical five-year-old to ask for one!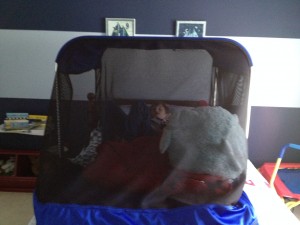 The price tag is a little hefty. Insurance did not cover Colin's bed, despite our best efforts. One of our friends recently got one, and it was covered — so it's definitely worth a try to see if insurance will foot the bill. For our family, however, the bed was worth every penny.
Colin was able to get off tranzene at night — which was huge! And since he is sleeping, the whole house sleeps. Everyone is happy: especially me and my husband.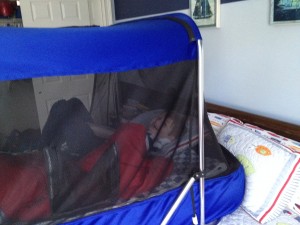 The company customer service is great. The owner sent us a prototype for our vacation to try before we bought the bed. (the prototype was an exception and not standard practice for The Abram's Bed Co.) She even face timed with me to help me set it up. When we purchased our bed, one of the rails came damaged. We notified the company, and they sent out a new one immediately.
The bed was invented by a mom who has a son with autism. He wasn't a good sleeper, so she invented a solution — and now she is helping parents all over the world.
Check it out at www.thesafetysleeper.com