Angels in Action – Joshua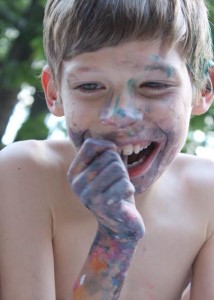 Angels in Action
By Yvonne Hamrick, Mom to Joshua age 10
Joshua is an artist.
He LOVES to paint. Our family is so proud of him for pursuing his passions, and  we want to share that dream with everyone.
Joshua enjoys painting for others, but mostly for himself. He has been an artist all of his life, and he knew it before anyone else did.
We are so glad that we gave him that first opportunity to paint! Not only are Joshua's paintings a means of expressing himself, but it's also a great organizing tool for his body. The squishy paint between his fingers and sometimes his toes.
Joshua often struggles to grasp things, but not so much when he's using a paint brush or another of his rubbing tools he likes to use.