By Lyn Barnes
Daniel is 25years old, lives in Dubbo NSW Australia, and has the best social life of anyone I know (including me). He loves to go anywhere and socialize with anyone. He goes ten pin bowling, the zoo, the movies, the local pub for lunch, and does Zumba twice a week.
His smile is infectious and even though he suffers daily from chronic pain, that smile never leaves his face, making everyone who comes across him smile as well.
My angel… Our angel…. half of Dubbos angel….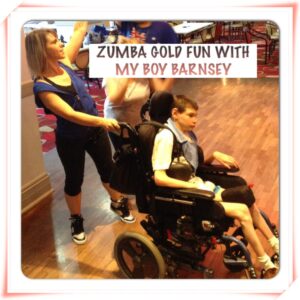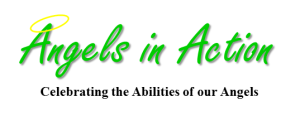 Dylan is 7 years old and LOVES riding his new bike! He received it from another Angelman family at the DC walk in May. He enjoys riding into curbs and also riding up into the neighbors' lawns. He gets a big kick out of it!
Dylan also loves riding his therapy horse Lark, doing anything outsid
e, playing in water, watching TV/movies, Curious George, Thomas the Train, Disney, and being around other people. He is very social and makes friends everywhere he goes. He does not know a stranger and gives hugs and kisses to everyone. He loves his family and they all love him to pieces.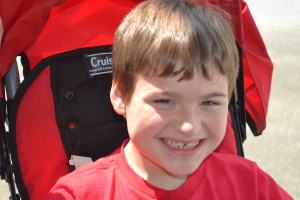 Dylan will be in first grade this year and enjoys being with his teachers and classmates. He is driven to school each day, but gets super excited to see the buses in front of the school. It is hard to walk him past them to get him to class!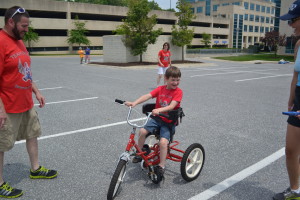 Once you meet Dylan, you
will never forget him. He has that affect on people – his laugh is infectious and his smile could light up the night sky. We are so blessed to have him in our lives.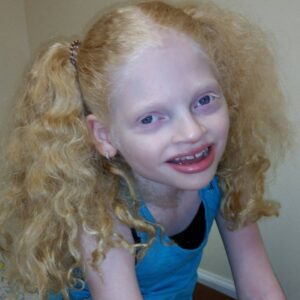 By Chris Starks, Father to Maddy, age 9
Madison Jordan Starks is our beautiful albino Angel that has truly blessed our family with her presence and her smile. Her ability to capture everyone's attention with her blue eyes and long curly blond hair is a wonder and the norm everywhere we go. Madison is deletion + and suffers from seizures only when she is either overly exhausted or has a fever. Although Madison can't talk and is limited on how long she can walk on her own due to her being visually impaired she has made great strides to become more independent. Maddy as she is affectionately known is the pride of her school and with the assistance of a strong team she has defied the odds by becoming more self-dependent with helping us dress her, trying to wash herself and feeding herself.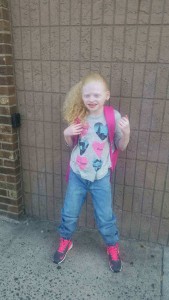 We watch her everyday amazed at the goodness of God, she has accomplished so much that the doctors and specialist said she would never achieve. She is truly an Angel on earth.
Madison enjoys long baths or anything involving water, she loves to eat muffins, mac & cheese, burgers, and mashed potatoes. Maddy loves watching Frozen and her favorite shows come on Disney Jr and Nick Jr. Her favorite toy is a basketball just like her daddy but above everything Madison enjoys music of all types. Her latest achievement is that we now both get to wake up to the sound of her voice calling mommy and daddy. We wake up with great anticipation of her next achievement. The sky is the limit.
Facts about Albinism in Angelman Syndrome:
-On a rare occasion deletion + individuals can have a second genetic disorder.  This disorder is OCA2 (also known as the P gene) located close to the AS gene that is also missing.
-Albinism in Angelman Syndrome is very rare and may occur in less than 1%.
-Severe visual impairment and increased incidence of strabismus is often reported.
References:
From Facts about AS, 2009 angelman.org
Dr. Charles Williams – Professor of Pediatrics and Medical Genetics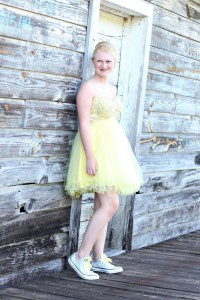 By Adrian Roberts, Mom to Caroline
This is our Sweet Caroline and she was on her way to the 8TH grade prom in this pic. She attends Whittemore Park Middle and is 15 years old. She enjoys cheering for her school, was inducted in the Jr. Beta Club this year and was on the Valentine's Court at her school.
She enjoys being with her family, staying current with social media, swimming (of course),  playing with her sisters,  laying on the beach and making others around her smile.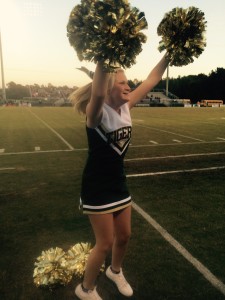 Her smile and laughter will illuminate any room she walks in. She tries her hardest at everything she does and she amazes us everyday.
Although we aren't seizure free they are few and far between and we know that we are extremely blessed.

Luke and Zach are identical twins (UBE3A) who will be 8 in May and are the youngest of six boys.We live in a little coastal village called Downings, Co. Donegal, Ireland. Living in a small rural community definitely has its advantages as the support that we get from family and friends cannot be bought. My family are involved in the hospitality trade, so everyone knows the boys and they are accordingly acknowledged wherever they go. It's lovely to walk in to the hotel and there's high 5's going on all around- little celebrities in their own right!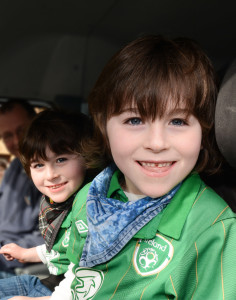 The twins have very different personalities with Luke being the more serious and headstrong of the two. Zach just oozes devilment and loves nothing more than winding his brothers up and knows exactly which buttons to press. He is more sociable and outgoing and interacts immediately with others while Luke is more cautious, he sits back and accesses every situation and then decides what he will do or who he will play with. Zach loves playing with Lego and Magformers and Luke loves everything about his iPad. With the boys love of water we are spoilt for choices of lovely safe beaches where we spend most of our time during the summer months.
Living in a house full of boys, we are a very active sporting family – boys don't know how to sit! We are a fanatical Gaelic football family and travel to most of our county's games. In my day I played myself and now I help coach the underage girls teams. When the twins were born I had dreams and visions of all 6 boys playing together on the one local team but that was all dashed with their diagnosis until last week where we have got 100% support from our local club to involve the twins- happy days! I think this is very important for them to be included in community activities as they don't attend the local school and it gives other children a chance to get to know them.
Luke and Zach attend a special school about a 40 minute drive away, to me a little ironic that the school is called "Little Angels". They started there when they were 4 and after the first year myself and the principal decided it was best to separate them as it was a case of "double trouble" with Luke leading Zach astray.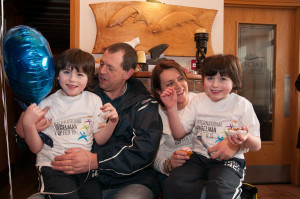 They are now each in a class of 6 children with two SNA's in each class. Zach is streets ahead of Luke at school and I firmly believe it's all down to seizure activity. We battled to get Luke's seizures under control while Zach has only ever had drop seizures twice. Luke has now been seizure free since May '14 and he's coming on leaps and bounds.
In Ireland SLT/ OT/ and physio are free and they receive all these therapies during school. The boys have a few hand signs and I started them on P2go on their iPads last year without the support of their teachers and SLT. I feel the SLT is way behind here in Ireland, and I am still fighting them on the boys capabilities. Last year I had the pleasure of attending one of Mary-Louise Bertram's workshops here in Ireland and Zach's teacher attended also and afterwards she was converted!
Luke and Zach are very close but can still fight the bit out like any typical siblings. Any time we are in the car they hold hands and when they are outside in the garden one always follows the other with the leader role always switching off. They will not share anything except with each other and swap everything dinner included, and Zach being Zach always fairs off better. Call me mad but I do believe they are telepathic and have night vision!
The boys amaze us every day reaching different milestones as they teach us that the smallest things in life are the things that count the most.
Lá Fhéile Pádraig shona daoibh go léir –
Happy St. Patrick's day to you all from the Cullen Family (Ireland)
Documentary To Watch
Created by Lucy, sister to Alice
Alice has Angelman Syndrome

"My name is Lucy Holyoake, I'm from Wellington in New Zealand. I'm a film student at University and I have a 17 year old sister with Angelman Syndrome. I would just like to share my short documentary film I made about my sister, Alice Holyoake. I would love for families with Angelmans kids to be able to see it, as I think they would be very interested."
Celebrating the Abilities  of our Angels
Skills Learned in 2014 
Subscribe to the Angelman Today YouTube channel for more upcoming video's.

Celebrating the Abilities of our Angels
By Suki Sandhu, Mom to Sydney age 19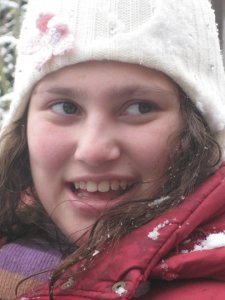 We did not receive an official diagnosis for Sydney until she was 15 years old. I always knew there was something more than just being developmentally delayed. Physician after Physician did not know. The diagnosis was not going to change anything about Sydney, it was for me. It helped me understand and was therapeutic for my 15 years of unanswered questions.
To do my part and help raise awareness, I had the opportunity to speak with the medical staff of Great Ormond Street Hospital and reminded them that the diagnosis is as important for the parents.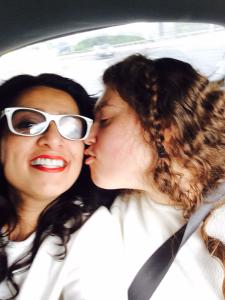 Sydney loves going to the movies, we take her at least once a month. She loves musicals on Broadway, searching YouTube videos on her iPad, going to the park with a zip wire and walking the dog.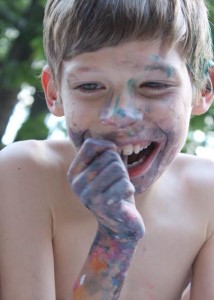 Angels in Action
By Yvonne Hamrick, Mom to Joshua age 10
Joshua is an artist.
He LOVES to paint. Our family is so proud of him for pursuing his passions, and  we want to share that dream with everyone.
Joshua enjoys painting for others, but mostly for himself. He has been an artist all of his life, and he knew it before anyone else did.
We are so glad that we gave him that first opportunity to paint! Not only are Joshua's paintings a means of expressing himself, but it's also a great organizing tool for his body. The squishy paint between his fingers and sometimes his toes.
Joshua often struggles to grasp things, but not so much when he's using a paint brush or another of his rubbing tools he likes to use.