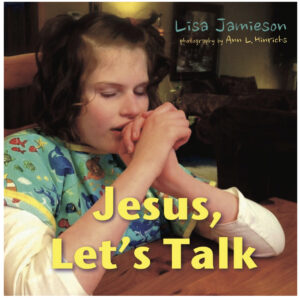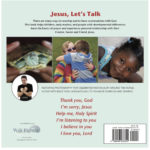 We recently caught up with the very busy Angel Mama, Lisa Jamieson to learn about her new book Jesus, Let's Talk.
A delightfully visual exploration of basic prayers for the young and young at heart Jesus, Let's Talk helps children, early readers, and people with developmental differences enjoy the sweet basics of conversation with Jesus. There are many ways to worship and this natural approach to prayer inspires both the young and young at heart. Colorful photographs of children and young people celebrate that the fingerprints of God are on all people, all around the world. The book also highlights key prayer words using American Sign Language. Young ones who are not yet talking, those who experience hearing impairment, and others who simply want to explore the joy of communicating non-verbally will have fun learning new ways to express themselves.
Introduce a child to a personal relationship with their Creator, Savior, and Friend, Jesus. This delightful book makes a perfect gift for toddlers, early readers, and for young people with developmental-intellectual disabilities.
Featured prayers include:
Thank you, God
I'm sorry, Jesus
Help me, Holy Spirit
I'm listening to you
I believe in you
I love you, Lord
Lisa Jamieson is an author and speaker who also advocates for families affected by disability and caregivers of all generations. She leads the Minnesota Disability Ministry Connection and serves as executive director of Walk Right In Ministries. Her books and Bible studies include Finding Glory in the Thorns, which she co-wrote with her husband, Larry. Lisa and Larry have three grown daughters and are excited to celebrate 30 years of marriage this summer. Their daughter, Carly (19, AS del+), has Angelman Syndrome and lives happily at home with them in Minnesota.
Tell Angelman Today readers a little bit about yourself and your family.
My husband, Larry, and I have three adult daughters and live in Minnesota with our youngest, Carly, who is 19 years old and has Angelman Syndrome. As you would imagine, much of my time is spent caring for Carly and our household but I also write, speak and serve in ministry as an advocate for caregivers of all generations. Larry works for a men's discipleship ministry and does business consulting. We are excited to celebrate 30 years of marriage this summer.
What is this book about?
This book is about prayer and exploring the very natural ways we can express ourselves with God. Since the photography features young people with various abilities from all around the world, Jesus, Let's Talk also celebrates that God is beautifully creative. Each and every one of us is very precious to Him.
 What led you to create this book?
While I hope lots of children all around the world will enjoy Jesus, Let's Talk, I wrote it with Carly, her friends with Angelman Syndrome and other challenging conditions as well as their caregivers at the top of my mind.
On one of those very late nights many Angelman families know too well, I was awake with Carly who seemed to be in pain. In tearful frustration, I called out, "Jesus, help!" while simultaneously signing "help" for Carly to see. Suddenly it occurred to me that we had not explained to her about asking God for help. Although we had been teaching Carly "thank you" and "I love you" prayers around mealtime and bedtime, I realized most other prayers happened inside my head, between me and God. I began teaching Carly a broader range of prayers and a representative gesture or American Sign Language with each scenario. Since I had made Carly photo scrapbooks to model new skills over the years, I began envisioning one pairing basic prayers with key signs. It seemed like a book that could help others but I found nothing like it on the market. I approached my friend Ann about partnering with me because she is a professional photographer, travels internationally and shares my passion to help people of all abilities connect with Jesus. Creating Jesus, Let's Talk was a labor of love for both of us.
Do you have a favorite story from the process of writing this book?
There were several special moments in the creation of this book but one fun memory that always makes me smile comes from an afternoon in late August. It was our last photo shoot for the project and several families were scheduled to arrive in my backyard at 1:30 pm. We ran into one problem after another from pouring rain to a missing memory card for Ann's camera. Well, the rain actually cleared up right on time but not before chaos was underway in the house which evolved into three young adults with Angelman Syndrome vying for my daughter's iPad. We could easily have had six great pictures in the book with that iPad in them but we managed to keep it to only one.
How did you find the time to write Jesus, Let's Talk? We all know being an Angel Parent is very demanding of our time.
I ask myself this same question sometimes and wish I could give a short answer! Trying to have a career (or any kind of work) let alone enjoy special projects or hobbies feels impossible most days. I don't know how any parent who has a child with Angelman Syndrome can get through a day without help from others. I am very grateful to have helpers. But even with help, I don't rest a lot and have to be careful that my family doesn't pay the consequences when I'm engrossed in a project or busy season with my ministry work.
I am constantly challenged to balance my excitement for creative projects with my love for family and responsibilities related to our household. I'm fortunate to be in a stage of life when our oldest children are out on their own now and Carly is in a transition program for a few hours each day. So, after a quick walk on the treadmill (some days), a very fast shower and maybe even lunch, I have some time to work a few hours a week.
I used to be one of those professionals who never missed a deadline. These days I miss a lot of them, especially when we've had a long night or a day with unexpected challenges or interruptions due to Carly's complex needs. I am also privileged to have a very supportive husband who shares household chores and can sometimes spend an evening snuggling with Carly watching tv if I have creative streak or deadline looming.
I do a fair bit of writing on my computer in the middle of the night when Carly can't sleep and I'm sitting in a recliner beside her bed. Many ideas come while I'm cooking and showering too. Odd as it seems, I usually have my computer handy in the kitchen and I keep a notebook on my bathroom counter too! I've also been known to dictate thoughts into my phone while driving. When my older children were still at home and riding in the car with me, they were sometimes asked to type quick notes or reminders for me on their phone and send it to me in an email. I'm not necessarily proud of this but it's given us all something to chuckle about and remember now and then (sometimes accompanied by an eye roll from one of my daughters).
Truth be told, there are some selfish reasons why I stay busy too. The creative process energizes me and doing things for others encourages my spirit. My work even becomes a bit of escape from my rather consuming caregiving role with Carly.
Where can readers find the book?
Angelman Today has added Jesus, Let's Talk to the Ultimate Amazon Special Needs Shop and can be ordered online here https://www.amazon.com/shop/angelmantoday_com
Jesus, Let's Talk is currently available at Amazon. Larger orders (10 or more) can be placed directly through the publisher at www.WalkRightIn.org.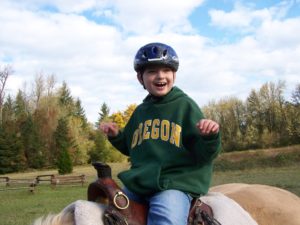 By Alisa Guilietti
Hi, my name is Nicolas and I am a 15-year-old who has Angelman Syndrome (AS). It's a rare genetic disease affecting my 15th chromosome. For me, it means I speak only two words rarely, my walking is unbalanced, I need help with a lot of my daily activities and I really like getting into things, so someone needs to be around me all of the time. I am also generally a very happy guy. I can't write, but my mom knows me pretty well, so she's writing what she thinks I would say if I could.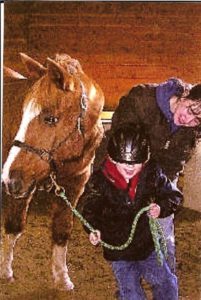 Over ten years ago, when I was four, our family learned about a place called RideAble, horsemanship for people with special needs. On the first day, I got to hold the reins of my horse, "Goldie", lead her to the arena and ride her. I loved it! I felt so big and independent! I have been taking lessons almost every week ever since. Not only am I having fun, but my muscles are working hard to keep me centered on my horse, I am learning how to make the horse go, stop and turn, and I am interacting with some great volunteers and instructors who love horses and are very committed to helping people like me. They keep my lessons interesting and change them up with new challenges. Sometimes they even have me ride bareback, backward! I really have to concentrate when I do that. My favorite part is when we trot!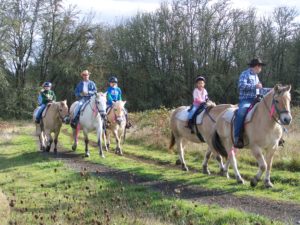 My parents attended a RideAble auction about 6 years ago and bid on a pack trip. My Papa and older sisters went with Matt and Becky Hope, who are members of the Emerald Empire Chapter of the Back Country Horsemen of Oregon, which covers the Southern Willamette Valley of Oregon. They are an equine group of riders protecting the ability to recreate on our public lands, Forest Service, BLM, County and State parks. They embrace trail work/maintenance, Leave No Trace education, trail advocacy, and youth programs. Basically, fun people who like horses, hard work and fun outside! They all had an amazing time on the trip and that fall they took our whole family for a trail ride at Elijah Bristow Park. It was so fun having my family ride with me. I got so excited seeing everyone up on horses, especially my Papa.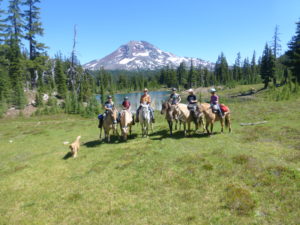 Something clicked with our family and theirs, and we have been riding together ever since.
My Papa and three sisters have been on a few pack trips with Matt and Becky. Matt said a couple times, "We need to get Nicolas and Alisa out there on a trip". I was pretty much for it because I like to try new things and am a good sport. My Mama was a little hesitant. Sometimes taking care of me can be a lot of work and I think she wasn't sure if it sounded fun and worth the effort.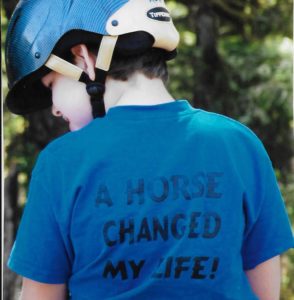 With planning and encouragement, the day finally came. We packed up all the horses and rode eight miles into Buck Meadows in the beautiful Three Sisters Wilderness. Me and my horse were ponyed so we didn't get off course. We had a few obstacles on the trail riding in and out. There were a lot of trees down so we had to stop, assess our options, ride cross country, then get back on the trail. Sometimes there were logs we could jump and others we went under and had to duck our heads. We went slow and I had to pay attention. We also encountered some bee nests. The horses don't like being stung so they usually start running to get away from the bees when this happens. It's pretty exciting!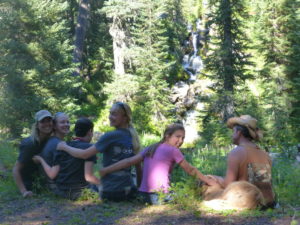 When we arrived at the perfect spot, everyone worked to get camp set up, because we'd be staying there for the next 4 nights. They even packed in a sturdy chair for me to sit on. Over the course of the next few days, we went on some awesome mountain trail rides in meadows, near lakes and waterfalls and got really close to the mountains. Matt and Becky are super cool and fun to be with. Nothing really phases them and they are very organized and well-prepared.  The Hopes have a cool water filter system since we can't bring in water for everyone. We camp near running water so all the animals have access to it. Also, we all try to limit the amount of trash we have. We burn what we can, then pack out the rest. As you can see, it's a pretty organized operation.
Mealtime is a big part of our experience together, as we all love sitting around the fire, soaking up the amazing surroundings and enjoying a good meal. Food doesn't just appear on our plates; it takes some good planning and preparing since we have limited space. Becky and Mama planned ahead, froze a lot of food and did a great job delivering nutrition to us all. Everyone pitches in with getting the meals ready and washing dishes when we are done. I usually supervise!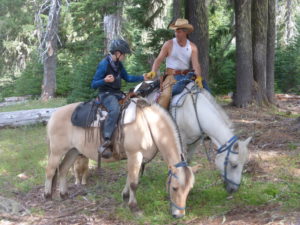 They have a wonderful group of Norwegian Fjord horses: Darwin, Ekko (who I ride), Thumper, Regney, Sy, Scout, Bo and their friend Flint. Quigley and Clancey are a great pair of Australian Shepherds and our Golden Retriever, Samson, has fun with them all.
One morning Becky was hanging out with me while everyone was getting ready for that day's ride. I was tired of sitting, and I wanted to get closer to the horses. Becky walked with me to each one of them so I could say hi. This is a great example of how good Matt and Becky are at including me and helping me interact with the horses.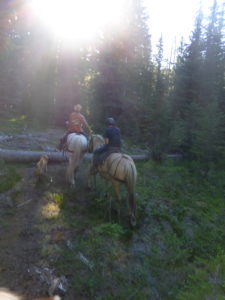 My family loves to be outdoors and hike, which is pretty hard for me. It's very cool that thanks to all these wonderful people and horses, we have found something we all love and can enjoy together in the great outdoors as a family.
Charlotte's Web CBD (Cannabidiol) is becoming one of the most popular choices to help treat epilepsy in individuals with Angelman Syndrome. Some parents are also reporting that they have noticed improved behaviors. Although this hemp oil is available to order online and ship directly to your home it is highly recommended that you consult with a doctor that is trained in treating individuals for the specific areas in which you are concerned. As more states legalize the use of medical marijuana more doctors will be getting this training and lists are beginning to form to help you find the right doctor. This is a therapeutic and with any therapeutic, it is important to start with the correct dosage and evaluate the efficacy for your loved one and adjust as needed.

Available in Mint Chocolate and Olive Oil
A quote from their website:
-CW™ Hemp proudly ships our Charlotte's Web™ proprietary hemp extracts to all 50 States. The United States Farm Bill of 2014 classified industrial hemp as containing less than 0.3% THC on a dry-weight basis. Because Charlotte's Web™ products contain less than 0.3% THC, we are allowed by U.S. Federal law to conveniently ship to your doorstep.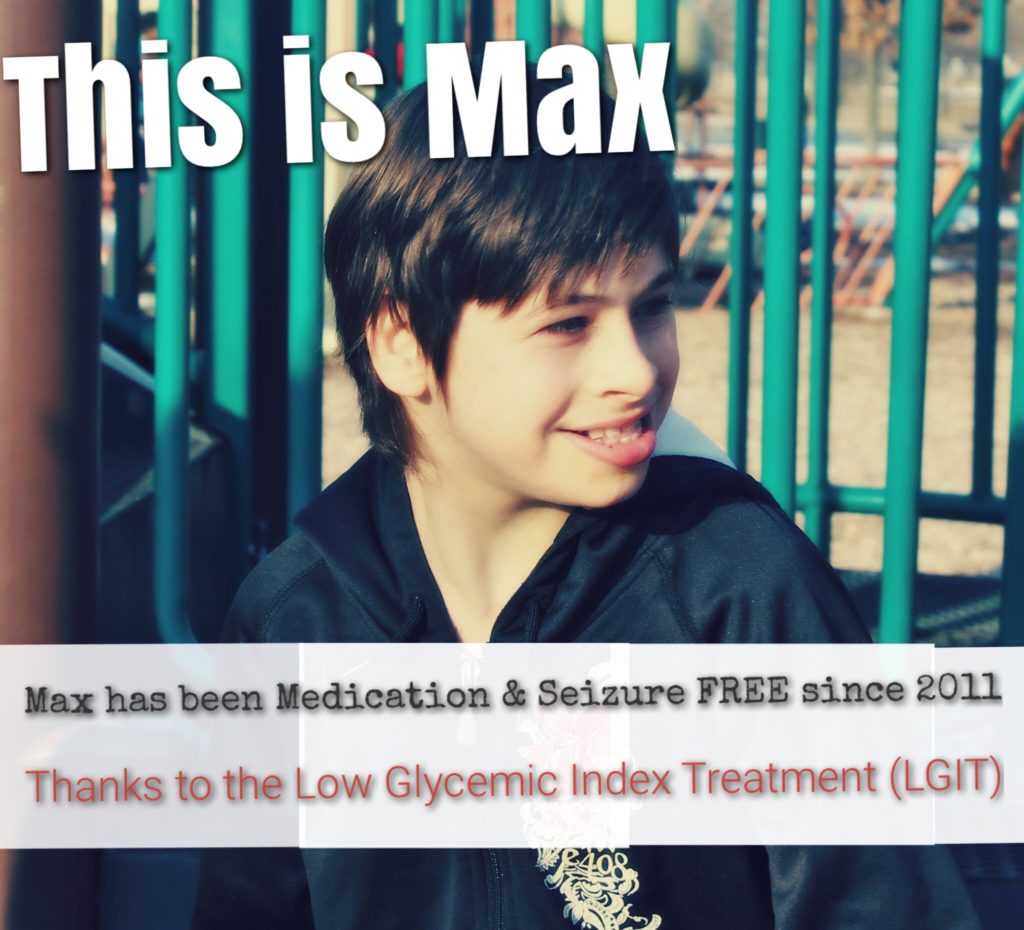 Frequently asked questions about Low Glycemic Index Treatment (LGIT) Edited by Heidi H. Pfeifer, RD, LDN, Clinical Dietitian at Massachusetts General Hospital
1. What is the Low Glycemic Index Treatment (LGIT)?
The LGIT is a special high fat diet similar to the ketogenic diet that is used for difficult to treat seizures. It focuses on both the type of carbohydrate, low glycemic index, as well as the amount of carbohydrate based on portion sizes and household measurements. The glycemic index (GI) is a measure of the effect of carbohydrates on blood sugar levels.
When carbohydrates are digested, they release glucose into the bloodstream. Carbohydrates that digest rapidly have a high GI. Carbohydrates that are digested slowly have a low GI. Foods are rated based on their GI values ranging from zero to 100. The LGIT includes foods that have a GI of 50 or lower. In addition to the GI, the digestion of a carbohydrate food is slowed by foods that are eaten at the same time that contain either fat or fiber. Therefore, meals are balanced with sources of fat, protein and a low glycemic index carbohydrate.
For more information visit: https://www.charliefoundation.org/explore-ketogenic-diet/explore-2/lowgycemicindex
By Efi Paschalidou
My husband and I wanted a child more than anything else in the world.  After two years of trying we saw the magic line on the pregnancy test. Our joy was unspeakable. But unfortunately my pregnancy was difficult from the start. Placental abruption, hemorrhage, contractions from the 6th month, not being able to feel the baby, prematurity.
We said that it is our child and we would adore it even if something went wrong. 
Finally we held her in our arms after many days in the incubator.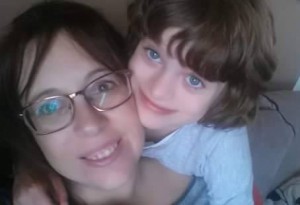 Our doctor and the other doctors in the hospital told us that our baby was fine, that it was a little "behind" due to prematurity.  It was like a black veil was blinding them and they couldn't see our child's problem.
But something was eating me alive. I feared that something was wrong.  Thought I felt the happiest woman in the world.  I had a wonderful family and a "healthy" baby.
A "healthy" baby! What a big word!
We thought we were the happiest people on the earth.I don't know if we are happy but we sure live a lot of happy moments with our children, each one in her own way.  We also have a three-year old little girl who adores her sister.
Our griefs began very soon, she was only 7 months when we had the first diagnose. "Your child has a psychomotor retardation, hypotonic.  You should begin physiotherapy". Those terms were unknown to us. Where should we go, what should we do, how could we help our child in the best way?
We went to many doctors and heard a lot of things but of course nothing comforting. I was crying all day, I felt like hitting my head on a wall, I wanted to take my child and just disappear. And in my head a big question "God, why us?"
But I had to bring myself back together for my child.
I couldn't see her crying in her therapies but I had to be strong. I could not stand the fact that I had to see her lying on her bed, unable to move properly, but when I hugged her, I knew that she was my whole life. I was the happiest person on earth.
I couldn't bear the thought of having to see carefree mothers strolling along the streets, in the parks with their babies, when I was in a hurry to be on time for her therapies.
I felt really uncomfortable when some other parents were talking about their children's accomplishments, but eventually I realized that what our daughter achieves is the most significant achievement of all.
In June 2010 when our angel was about 2.5years old we received a phone call from her pediatrician neurologist to inform us about the results of a medical test our daughter had. " something was found, your daughter has Angelman Syndrome. Come to my office tomorrow to talk about it ".
We were shocked to hear that. Instantly we started looking for information about this syndrome. We were crying reading the relevant information. We could not believe that we had hit that kind of jackpot.
The following day I called my husband from work and told him that after our visit to the doctor, I wanted to go out and have fun together. We should feel happy as we were lucky to have found what the problem with our daughter was. We should stop weeping all day long. We knew what the exact cause of the problem was and we knew what we had to deal with for the rest of our life and we had to do our best to help her. We have an angel with us and we must survive. We must stand this difficulty bravely.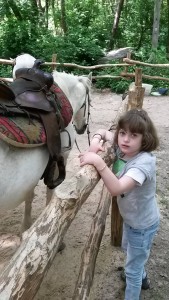 Our daughter is 8 years old now. She deserves praise for her daily improvements. when her school teachers and therapists tell us that she has improved and therapists tell us that she has improved significantly, we take courage and can cope with it.
"You enjoy what you achieve only if you worked hard for it, if you have obtained it after great efforts and sacrifices." When our angel manages to reach her goals, it is as if she had conquered the whole world
These happy moments are the reason why we don't give up and give us great strength in these difficult moments.
So many people wonder what it is like bringing up a charismatic, special child. Yes, it is true that it is difficult sometimes, unexpectedly difficult, it is beyond us. Through her eyes and her smile we can take courage and become patient enough to keep going. We may feel that we are in a dead-end, disappointed at times but we always manage to endure.
Disability is not an infectious disease. Disabled people are the real fighters. The only thing they are asking for, is acceptance. When you meet such a charismatic child do not avert your eyes, do not take your child away from it at school, or in the playground. Let it play with our charismatic child. Do not send it away.
You can be taught a lot by a disabled child. You can learn what the real purpose in life is.
I believed that I had to teach my child a lot about the world, but now I know that I have to learn the world about my child.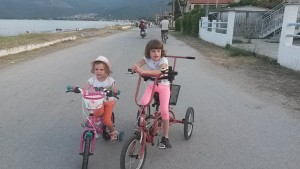 I would like to thank, from the bottom of my heart Angelman Today magazine, which gave us the opportunity to publicize this syndrome and make it known in Greece.
By Kat Adams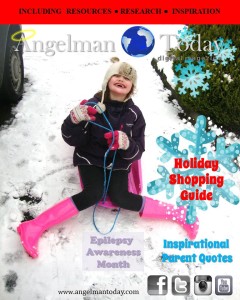 Melissa is 12 years old and has Angelman syndrome UPD. She loves to play games and laugh at her big Brother Jacob's jokes, she has a wicked sense of humor!
Melissa won the 'Child of courage' award at an event in her home town, I was very proud that her fellow citizens chose to recognize her daily struggles and her massive achievements in this way. 

Melissa experiences life in such a way that every day is an adventure, she brings so much love and happiness into both mine and Jacob's lives.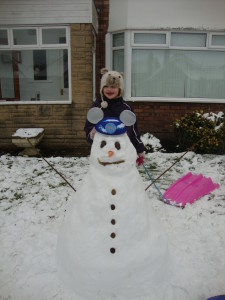 We have set up a small Foundation in Melissa's name to help support research into a cure for Angelman syndrome and have had many good times with our fundraising events, taking part in things such as skydiving and even carrying Melissa in a sedan chair for 5 miles.
Life is never dull with a child like Melissa. Lots of tears along the way but much more laughter !
For more information about the Melissa Adams Foundation you can visit http://www.researchangelman.org.uk/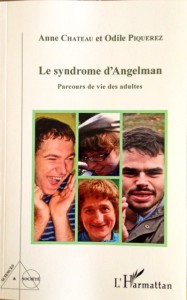 This work covers all the aspects of the life of young adults with a rare neurogenetic disorder, the Angelman syndrome. It is still a poorly understood disability, especially with regard to adults, many of whom have never been diagnosed or have been diagnosed belatedly.
Sparkling personalities often jovial and exuberant, they involve their parents, caregivers, educators and specialists in an enigmatic situation on which this work attempts to cast a new light. However, the universe which is described is often less than joyous, it is often hard for everyone, "full of sound and fury" with episodes of difference, indifference, rejection and violence.
This book raises questions as to the attitude of society to victims of Angelman syndrome as it has questioned the many specialists who have contributed their valuable contributions to the reflections of those whose parental role has made them unwitting experts in a field they never expected to explore.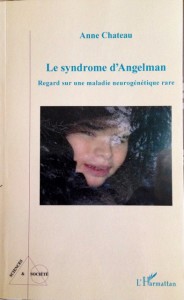 Anne Chateau is a retired teacher. Her son is 26. She published a first book in 2013 about Angelman children : Le syndrome d'Angelman, une maladie neurologique rare.
Odile Piquerez was a personnel officer until she interrupted her career to look after her son, now 33 years old. She is involved in many associations which support handicapped people in fields such as accessibility, epilepsy, and care.
The authors have founded the association Syndrome Angelman-France (WWW.syndromeangelman-france.org) They intend to translate extracts of the book into English and progressively to make their association's website available in other languages.