Save the Date!
The Angelman Syndrome Foundation is thrilled to announce the 2017 Scientific Symposium and Biennial Conference—your ultimate resource for all things AS.
ASF Scientific Symposium and Biennial Conference
July 10-16, 2017
Arizona Grand Resort & Spa

Thank You for Your Input!
Thank you to everyone who voted in the 2017 Conference location survey. The Arizona Grand site in Phoenix was chosen based on input from the AS community, and the ASF Conference Planning Team is hard at work planning the most engaging and beneficial programs and activities for all attendees.
Plan ahead!
The room rate for the Arizona Grand is $110/night. Use the Conference Budgeting Sheet in Excel or PDF formats to start planning for your trip to Phoenix today.
For those who plan on attending, join the ASF Conference Facebook group! This is where attendees will have the opportunity to discuss amongst themselves all things Conference related.
Many more details to come so stay tuned for future ASF Conference updates!
A Look Inside The Angelman Respite Centre
14400 Boul Gouin O., Pierrefonds, QC, H9H 1B1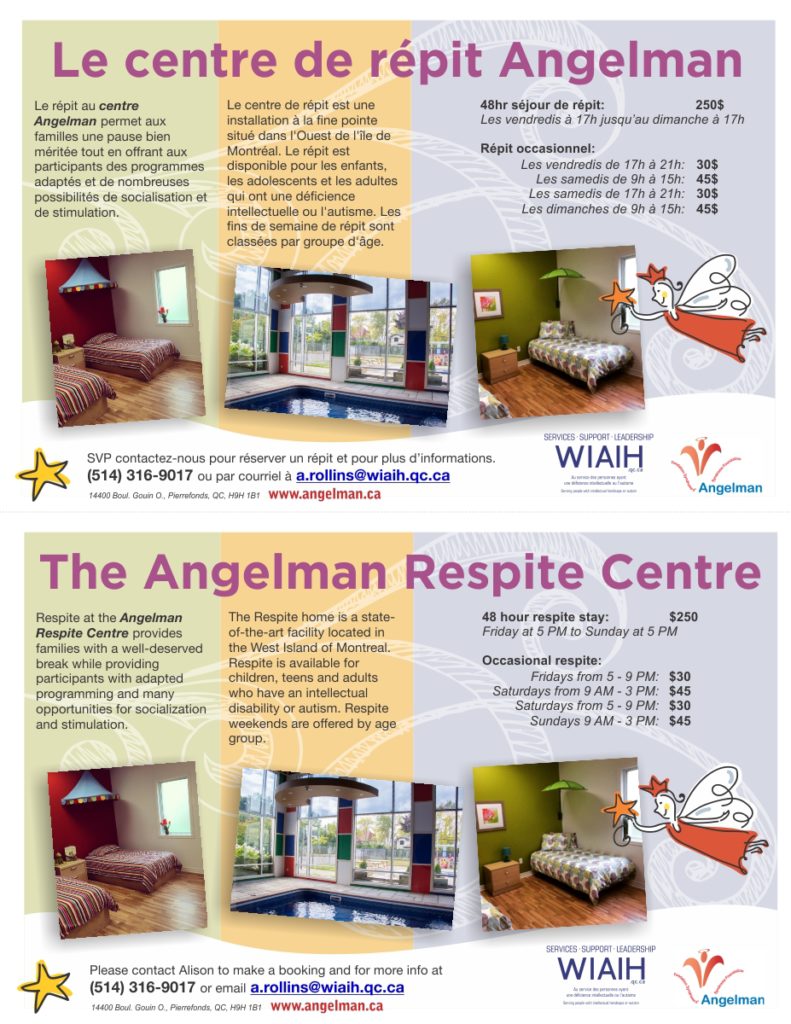 Dear Parent/Caregiver:
Many families of individuals with Angelman syndrome struggle to cope with challenging and difficult to manage behaviors. These behaviors can have a major impact on family life and also prevent the individual from participating fully in activities at home, school or in the community.
The Canadian Angelman Syndrome Society (CASS) and the Angelman Syndrome Foundation (ASF) have created a series of instructional modules to help families understand and address challenging behavior in individuals with Angelman syndrome. These modules can be accessed at www.angelmanbehaviors.org.
We would like to enhance these modules by adding video clips of individuals with Angelman syndrome engaging in challenging behavior and demonstrating options for what parents and caregivers may do differently in these situations. In order to do so, we are seeking families who are attending the CASS conference in Edmonton and are willing to be videotaped interacting with their son or daughter and receiving coaching on Wednesday July 13 and/orThursday July 14, 2016.
If you are interested in volunteering to participate in videotaping during the CASS conference, please indicate you would like to participate by sending an email message to info@angelman.org. We will then get back to you with further details.
Please take a moment to respond to this very short survey regarding behaviors that are most concerning for you and your family. https://www.surveymonkey.com/r/ChallengingBehaviors_AS
This survey will close on Friday, June 24, 2016 at 11:30 p.m. CST.
Thank you in advance for considering this important opportunity to help the Angelman community.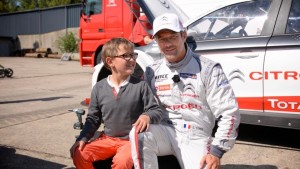 "I am happy to bring some help to the children of AFSA fight their diseases. If I can families to stay positive, I would be filled. We spent a lovely day during filming, it was nice to share these moments with Gatien, the team and the association. I give my full support to the AFSA, just like Sébastien Loeb Racing and we will be delighted to welcome the children in the future, on the circuits or other events. "
– Sébastien LOEB
"Can you imagine a more beautiful relationship, more beautiful friendship for a disabled child that he can establish with a great champion, a great sportsman who agrees to look him in the eyes and say," I recognize you, and I will support in your fight? On behalf of all children with Angelman syndrome, on behalf of their parents, family and friends, thank you to Sebastian. "
-Denise Laporte, President of AFSA
For more information visit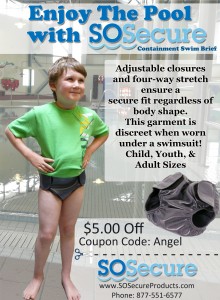 Save the Date — CASS Conference in 2016!
Conference Co-chairs Terry Singleton and Kent Fleming advise newsletter readers that the CASS Board has approved the Double Tree by Hilton in Edmonton as the venue for the 14th International Conference of the Canadian Angelman Syndrome Society, scheduled for 13 to 16 July 2016.
The Registration Booklet PDF is now available to download here.
It is full of information which will allow you to start making plans to attend. It is the work of the 2016 Conference Committee made up of CASS Board Members and CASS Community Relation Committee members led by Co-Chairs, Terry Singleton and Kent Fleming.
Thank you, everyone, for helping to get the word out about your Edmonton 2016 Conference! We look forward to welcoming you to an informative and enjoyable
conference.
We are pleased to announce that CASS has contracted Alberta AdaptAbilities to provide management of the Kids' Program at our upcoming Conference, "Prospecting for Possibilities" scheduled from 13 to 16 July 2016 in Edmonton.
Alberta AdaptAbilities Association is a registered charity that provides one of a kind programs and services that adapt everyday experiences empowering individuals with special needs to grow, succeed, and belong. They provide caring, understanding, and structured environments for children and adults with special needs.
CASS Conference organizers look forward to welcoming AS families to Edmonton this summer and believe this collaboration with Alberta AdaptAbilities will provide our AS and child delegates with the "Animal Adventures" they and their caregivers will enjoy.
Attach a one-page summary of the 3-day Alberta AdaptAbilities program. Click here to download the program.
Please stay tuned to the CASS website for News Flash Updates on this exciting event!
Secure Sleep System
Lizzie Sordia hosted a live webinar for the Angelman Syndrome Foundation about Holiday gift giving ideas. Here is the video from the YouTube channel of the ASF. As talked about in the video, we have a link to the downloadable PDF of this presentation to help make shopping easier. The links to these products in the presentation work directly to the websites where you can purchase these items. Enjoy!
Download the PDF here: Links work to help you shop online.
Holiday Gift Guide
By Kat Adams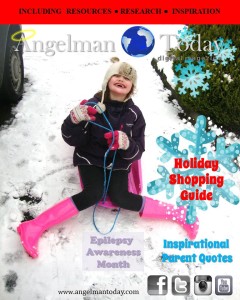 Melissa is 12 years old and has Angelman syndrome UPD. She loves to play games and laugh at her big Brother Jacob's jokes, she has a wicked sense of humor!
Melissa won the 'Child of courage' award at an event in her home town, I was very proud that her fellow citizens chose to recognize her daily struggles and her massive achievements in this way. 

Melissa experiences life in such a way that every day is an adventure, she brings so much love and happiness into both mine and Jacob's lives.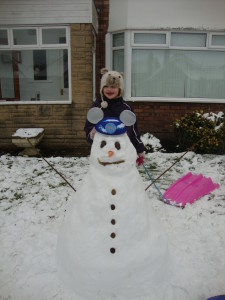 We have set up a small Foundation in Melissa's name to help support research into a cure for Angelman syndrome and have had many good times with our fundraising events, taking part in things such as skydiving and even carrying Melissa in a sedan chair for 5 miles.
Life is never dull with a child like Melissa. Lots of tears along the way but much more laughter !
For more information about the Melissa Adams Foundation you can visit http://www.researchangelman.org.uk/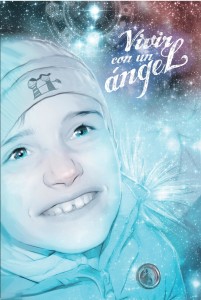 "What is Angelman Syndrome?" That is usually the first question we ask the doctor as soon as our child is diagnosed with this rare disease. The following questions may be of the kind: What can we do? Is there a treatment? What is their life expectancy?
As soon as we become aware of the fact that there is no treatment or cure, our whole life is turned upside down. Each individual family deals with the situation the best way they can. Some choose denial. However, sooner or later, they will try to contact other families in the same situation who will be able to understand, to share their own experience and offer support in bad times and celebrate with us the, good times.
All Angel families would have loved to hear about the syndrome from a more positive and closer point of view than that offered by doctors.
And so 25 families belonging to the Spanish Angelman Syndrome Association decided to write down their personal stories in the hope of spreading the word on Angelman Syndrome and especially with the determination to help those who in the future will come face to face with this diagnose.
We want them to know that they are not alone and that there is a life and hope beyond the syndrome. It may be difficult at times, but it will bring moments of total happiness, more than we could have imagined.
And, most importantly, the book is a tribute to our sons and daughters: it is their lives and their stories we are sharing with the world, a story they aren't able to explain with words.
*The English version will be published soon.
Se trata de un libro escrito por 25 familias de la Asociación contando sus propias experiencias con un Angelman. Un libro imprescindible para comprender los que diariamente las familias viven.
Se trata de un libro escrito por 25 familias de la Asociación contando sus propias experiencias con un Angelman. Un libro imprescindible para comprender los que diariamente las familias viven.
Hemos analizado los precios de envio al extranjero, y sale sobre 10€ cada libro. El que este interasado en que le enviemos un libro al extranjero, debera pagarlo con tarjeta y a 20€ con gastos de envio incluidos.
Buy your copy
Compra su copia