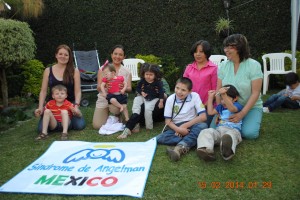 Con motivo del Día 15 de Febrero, Día Internacional del Síndrome de Angelman, se nos ocurrió hacer la Primera Reunión con Familias Angelman Mexicanas que hemos conocido a través de las Redes sociales y a su vez convocar y buscar nuevos angelitos en toda la República Mexicana, todo esto para tratar de difundir este Síndrome tan poco conocido por acá.
Cuando iniciamos solo teníamos conocimiento de 9 familias. Empezamos a difundir y poco a poco aparecieron nuevas familias, por cuestión de distancias se complicaba mucho reunirnos, por lo que decidimos juntarnos solo las familias que estábamos en el centro del País.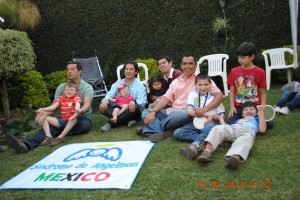 Ahora ya somos 14 pequeños Angelman en todo México, pero creemos que todavía debe haber más y seguimos haciendo labor para tratar de difundir un poco más este Síndrome, ya que encontrarse con otra persona es muy difícil por su incidencia de 1 a 30 000 casos.
A nosotros como papás  nos ayuda a no sentirnos tan solos, ya que intercambias experiencias, terapias que hacen cada uno. Es bueno poder compartir pues son pequeños de diferentes edades. A través de la página y el grupo de Síndrome de Angelman México los vamos a ir conociendo poco a poco.
Muchas gracias a las Familias de Diego, Vale, Emilia, Omar y Daniel por dejarnos compartir un poco de nuestras vidas.Dinorah Toledo Ocampo y Antonio Gaytán Téllez.  (Papás de Daniel)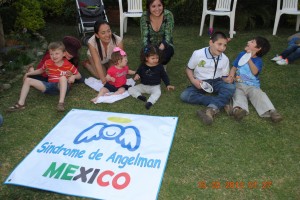 To mark the Day February 15, the International Day of Angelman syndrome, we decided to make the first meeting with Mexican families affected by Angelman Syndrome. We have met through social networks and we continue to call and find new angels throughout Mexico, as we try to spread awareness because so little is known here.
When we started we only had knowledge of 9 families. We started slowly, new families were spread all over the country, so we decided to get the families together in the center of the country.
Now, we are already 14 Angelman families throughout Mexico, but we believe that there must still be more and we continue to work to try to spread a little more about this syndrome, as finding another person is very difficult because their incidence of 1 to 30 000.
For us as parents it helps us to not feel so alone as you exchange experiences and therapies. It's
good to share because they are small and of different ages. Through the group page and Angelman Syndrome Mexico, we are going to find more families gradually.
Thank you very much for Family Diego, Vale, Emilia, Omar and Daniel for letting us share a little of our lives. Dinorah Toledo Ocampo and Antonio Téllez Gaytan. (Parents of Daniel)
Syndrome de Angelman Mexico (Facebook page)
https://www.facebook.com/sindromengelmanmex