We just wrapped up the Angelman Cover Contest, congratulations to all of the participants! Everyone played a very important part in raising awareness about Angelman Syndrome.
It truly was a global event. We had entries and votes from all across this planet. Friends and family were sharing and voting daily for those beautiful smiles. Parents had strategized social media campaigns to rally votes.
It was a fantastic way to end the year with some light-hearted fun, awareness and to feel the support from so many people. I noticed in many photo shares on Facebook, people were asking to know about Angelman Syndrome after complimenting the photo.  That is what it is all about!
Thank you all for participating and supporting the families that entered the contest. Please let us know about your experience and if you think we should do it again next year in the comment section of the YouTube video about the contest.

Congratulations to the Winner Katerina (from Greece)! Just shy of 5000 votes! We had to select another photo of Katerina because of image size and quality limitations of the original uploaded photo.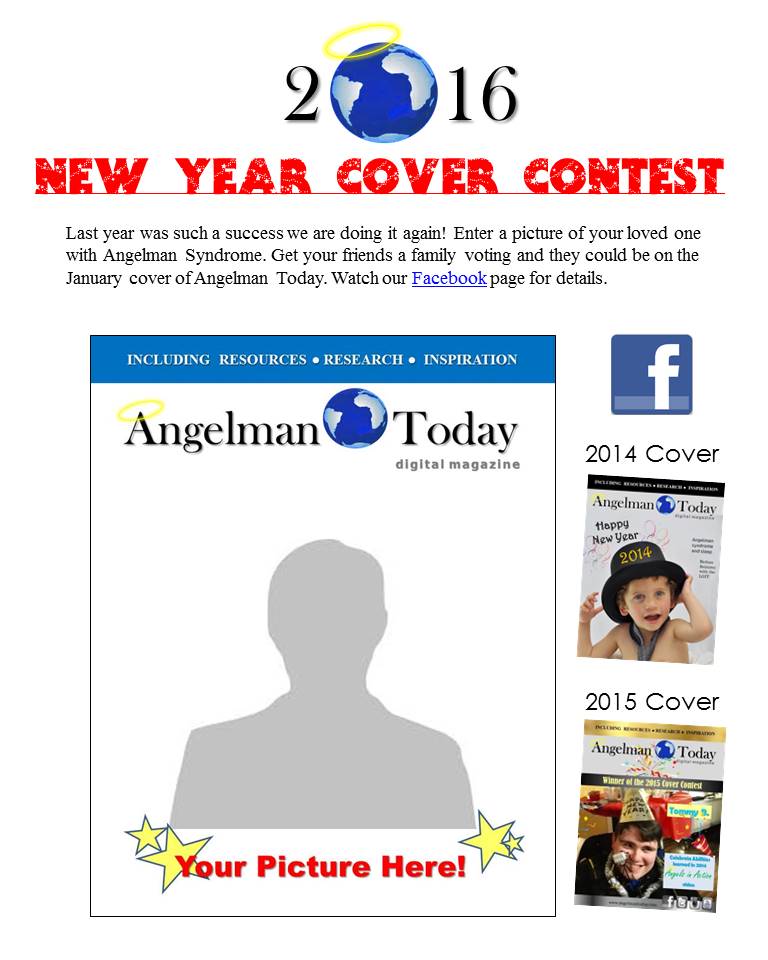 "Like" and watch our Facebook page for upcoming details. www.facebook.com/angelmantoday
Make sure to turn "ON" Notifications (from "none") on your Facebook settings.

"If I Need Help" and "Angelman Today" care so much about this community and the safety of individuals with Angelman Syndrome. Now we have partnered up to offer you this great giveaway!
-5 Winners will receive 4 patches.
-2 Winners will receive 2 custom shoe tags.
For 5% off your first purchase use Promo Code: Angelman Today

Enter to win – If I Need Help Giveaway
Enter to Win! Le syndrome d'Angelman – Parcours de vie des adultes:
A book by Anne Chateau and Odile Piquerez published in France and in French

Enter a picture of your loved one with Angelman Syndrome. Get your friends a family voting and they could be on the January Cover of Angelman Today. Watch our Facebook page for details.
Enter the Facebook Photo Contest here.
Angels Week Off Winners!
In January, we launched the Angel Week Off contest. We received two dozen stories …all worthy. The Angel Week Off contest essays left everyone who read them in tears and with a greater appreciation for what it takes to be an "Angel parent." Angel parents are physically strong, emotionally tough and mentally focused …yet they NEVER feel like it. Everyone of these essays proved that again and again.
The screening process was difficult and heartbreaking. The all-star panel included the middle Tennessee representatives of Special Olympics, Best Buddies and the Make-A-Wish Foundation. Everyone on that panel wanted to give all the contestants a week off. Maybe one day, in the not-so-distant future, we'll be able to do that. But for now, there was a standout story that moved everyone of the panelists …without exception.
The story that captured the hearts of everyone is filled with drama, heartbreak, pain and redemption …as is every Angelman story. It includes an abandoned Angel (something I know a little bit about) and two unsuspecting, "ordinary" people who were about to become extraordinary.
Their week off will begin in three weeks and will start with three days and nights in San Francisco (doing or NOT doing whatever they want), followed by three amazing days in Napa Valley. They'll dine on world class cuisine, drink some of the best wine on the planet and be serenaded by the likes of Colby Calait and Sarah McLachlan.
It's our honor at the Angel Wings Foundation to provide this much needed respite for these two very deserving people. We truly love our Angelman family and this is just one small way we can give back to them. We extend our unwavering support to everyone who entered an essay. You are all so deserving and we hope to send more of you on more great getaways in the future.
I would personally like to thank Lizzie Sordia and the Angelman Today publication for running and managing the contest, as well as Beth Torres (Make-A-Wish Foundation), Beth Tegarden (Special Olympics), Anneliese Baron (Best Buddies) and our own Brian Ladd (Angel Wings Foundation). Your time and attention is so appreciated.
So, without further adieu …cheers, Mary and Rory! Here's to the best vacation ever!
R
To Read Mary and Rory's story, click the link below:
http://www.regiehamm.com/blog/angel-week-off-winners/
Do you remember the freedom you felt, the confidence you gained, the pride you had when you received your first bike? The Great Bike Giveaway will help give children with special needs the same feeling you had when that shiny new bike arrived at your home.
For the third consecutive year Friendship Circle is holding the Great Bike Giveaway, a national contest giving away adaptive bikes to children with special needs. They are partnering with Freedom Concepts, Rifton, Buddy Bike, Ambucs, Triaid,Flaghouse, Mobo Cruisers and Strider Bikes to give away adaptive bikes to children and young adults with special needs.
Why The Great Bike Giveaway?
Many children with special needs miss out on the childhood joy of bike riding because their physical or cognitive limitations make riding a bicycle near impossible. The Great Bike Giveaway will give children and young adults with special needs the chance to win an adaptive bike and have the feeling of pride, freedom and confidence that bike riding brings.
How The Contest Works
Adaptive bikes are tailored to a child's needs. To meet the needs of the recipients in this contest, a separate contest is held for each bike type. The contest starts with two bikes of each type and money is raised to add more bikes as the contest progresses. Last year the Great Bike Giveaway ran 6 different contests and gave away a total of 29 bikes! This year we hope to give away 75 bikes to individuals with special needs.
Each bike page has a space where users can enter the contest. Submit a picture of your child with special needs along with a short explanation of why your child needs an adaptive bike.
Two Ways to Win
Most Votes
One bike in each contest will be given away to the entry with the most nominations. Nominations are received from friends and family clicking the "nominate button" on an entrants submission
Bike Raffle
All the remaining bikes will be placed in a drawing. To be eligible for the drawing each submission must be nominated by at least 50 friends and family members.
How You Can Help
Whether you have a child with special needs or not you can help more children with special needs win an adaptive bike.
1. Donate To Add More Bikes
In addition to the bikes that have been sponsored, Individuals have the ability to donate to the Great Bike Giveaway to get more bikes added. Every time the donation meter is filled another bike gets added to the drawing!
2. Share and promote
Let as many people as possible know about the opportunity to win an adaptive bike by sharing the the contest via your social networks and email. You can also check out the resources page for additional tools you can use to share the contest.
Contest Timeline
March 3rd 12:00 pm
Contest begins! Photo submissions will be accepted.
March 25th 11:59 am
Contest submission deadline, no entries will be accepted after this time.
March 26th
Drawing (Drawing date is tentative and subject to change) Will be held and winners will be announced.
To enter the Great Bike Giveaway visit www.greatbikegiveaway.com For contest rules visit www.friendshipcircle.org/bikes/rules.
A Special Thank You To the Sponsors