Very soon you will be able to purchase the first ever comic book pamphlet about the Ketogenic diet. Learn how to use Keto Power to help fight epilepsy.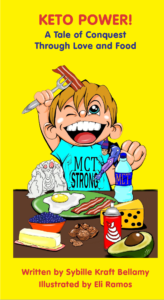 Written by Sybille Krafty Bellamy, Mom to Maxent. Maxent was born with Angelman Syndrome, he was medically fragile from the beginning of his life. Sybille was determined to learn how to spend time and money in the kitchen and not in the hospitals.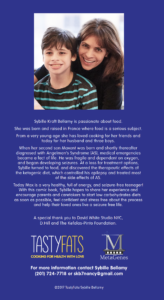 We will keep you posted and let you know as soon as it is available.

---
Charlotte's Web CBD (Cannabidiol) is becoming one of the most popular choices to help treat epilepsy in individuals with Angelman Syndrome. Some parents are also reporting that they have noticed improved behaviors. Although this hemp oil is available to order online and ship directly to your home it is highly recommended that you consult with a doctor that is trained in treating individuals for the specific areas in which you are concerned. As more states legalize the use of medical marijuana more doctors will be getting this training and lists are beginning to form to help you find the right doctor. This is a therapeutic and with any therapeutic, it is important to start with the correct dosage and evaluate the efficacy for your loved one and adjust as needed.

Available in Mint Chocolate and Olive Oil
A quote from their website:
-CW™ Hemp proudly ships our Charlotte's Web™ proprietary hemp extracts to all 50 States. The United States Farm Bill of 2014 classified industrial hemp as containing less than 0.3% THC on a dry-weight basis. Because Charlotte's Web™ products contain less than 0.3% THC, we are allowed by U.S. Federal law to conveniently ship to your doorstep.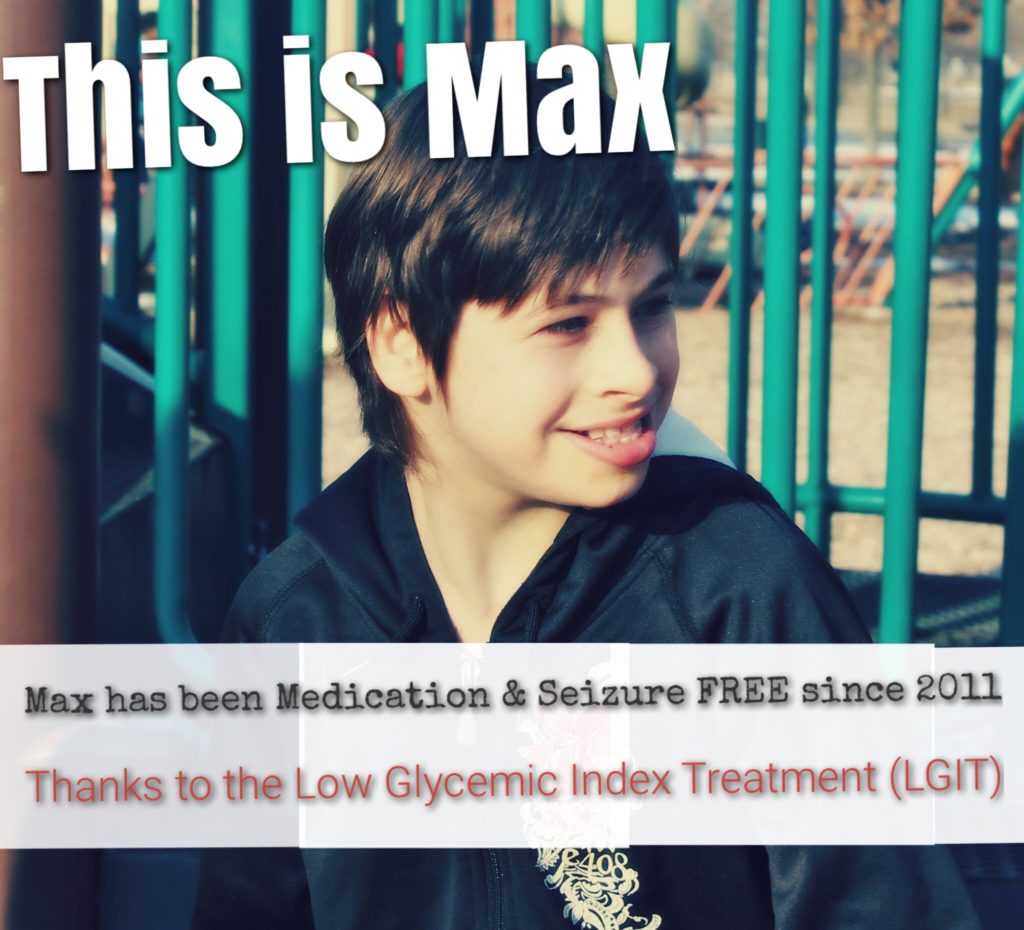 Frequently asked questions about Low Glycemic Index Treatment (LGIT) Edited by Heidi H. Pfeifer, RD, LDN, Clinical Dietitian at Massachusetts General Hospital
1. What is the Low Glycemic Index Treatment (LGIT)?
The LGIT is a special high fat diet similar to the ketogenic diet that is used for difficult to treat seizures. It focuses on both the type of carbohydrate, low glycemic index, as well as the amount of carbohydrate based on portion sizes and household measurements. The glycemic index (GI) is a measure of the effect of carbohydrates on blood sugar levels.
When carbohydrates are digested, they release glucose into the bloodstream. Carbohydrates that digest rapidly have a high GI. Carbohydrates that are digested slowly have a low GI. Foods are rated based on their GI values ranging from zero to 100. The LGIT includes foods that have a GI of 50 or lower. In addition to the GI, the digestion of a carbohydrate food is slowed by foods that are eaten at the same time that contain either fat or fiber. Therefore, meals are balanced with sources of fat, protein and a low glycemic index carbohydrate.
For more information visit: https://www.charliefoundation.org/explore-ketogenic-diet/explore-2/lowgycemicindex
Birdhouse for Epilepsy – Track seizures, identify triggers, & organize important health information for yourself and loved ones.
Simplify & organize your own care or someone else's by helping you identify seizure triggers, keep a medication log, evaluate diets, & ensure you're on the path to success.
Birdhouse for Epilepsy is the newest app from the creators of 5-Star Birdhouse for Autism. Birdhouse apps have been featured on Parents.com, HuffingtonPost, Smart Apps for Special Needs, Generation Rescue, Autism Speaks, The Friendship Circle, and more!
By Sybille Kraft Bellamy
Mother of Maxent, AS 14 years old.
Thirteen years ago in July 2003 Maxent was diagnosed with Angelman syndrome (AS), he was 18 months old.
Today he is a handsome teenager in excellent physical condition with no medical issues. Nevertheless, this was not always the case. From infancy to his toddler age he was chronically sick and he spent more time in the hospital than at home. Very quickly I had the certitude that diet should be the best accessible and fastest way to help him.
Following my own observation and encouraged by Max's pediatrician (and later by our neurologist), I started paying attention to his diet and removed most of the simple carbohydrates and insisted on replacing them with all kinds of fats.
The change confirmed that my maternal instinct about Max's incapacity to deal with blood sugar fluctuation was correct.
The low carbohydrate/high fat diet was and will always be his first line of treatment like many other patients with severe disorders.
My confidence and enthusiasm in nutritional therapy is being shared by many parents.
Unexpectedly, a couple of years ago when I was put in contact with Maria Picone (through Gary Taubes) I had an immediate connection. We felt that many of our everyday battles were very similar, and our energy and desire to share our success with the diet with our community was a necessity.
Maria's daughter, Tea, has Prader-Willi syndrome (PWS). I had the pleasure to meet her in her school with her friends and teachers and I was truly impressed by her personality.
She is a beautiful, smart little girl full of energy and very talkative!
Angelman syndrome and Prader-Willi syndromes were the first imprinted genetic disorders to be described in humans. Both syndromes are associated with loss of the chromosomal region 15q11-13( band 11 of the long arm of the chromosome 15).
This region contains the paternally expressed genes SNRP and NDN and the maternally expressed gene UBE3A.
Paternally inheritance of a deletion of this region is associated with PWS characterized by hypotonia, obesity and hyperphagia. Maternally inheritance of the same deletion is associated with AS (characterized by epilepsy, tremors and sleeping disorders).
* https://en.wikipedia.org/wiki/Genomic_imprinting
* http://www.ncbi.nlm.nih.gov/pubmed/11180221
In fact, many children with AS present typical characteristics of PWS, like an insatiable appetite and hormonal disorders. Also, some children with PWS suffer from epilepsy, also very common in AS.
It is well-known that patients with AS greatly benefit with therapeutic diets but it appears that patients with PWS do as well.They have better appetite control and a better body muscle mass repartition.The diet is beneficial for both syndromes, on a physical and cognitive aspect.
Many studies around the world confirmed the positive result on the diet with a better control of the epilepsy, however the full extent of the diet with some syndromes is not well-known because of the lack of data.
Patients and their caretakers need a data bank where they can have access to information concerning specific medical protocols and observations from patients and professionals from the medical field.
TREND Community was created to give patients a place to share their stories and contribute real-world data that will inform other patients, clinician, scientists and researchers. It is turning anecdotes into evidence.
TREND Community Initiatives connect its patient communities with leading specialists to collectively evaluate the effectiveness of specific therapies, diet or other environmental interventions. The Angelman Syndrome Diet Initiative is the first initiative for the Angelman community.
The AS Diet Initiative will introduce a group of individuals with AS to a pre-ketogenic diet and track patient-reported outcome measures hunger, cognition, behavior, energy, body composition and quality of life. This specific investigation of AS ketogenic diets is a wonderful opportunity to bring new hope for many patients and their families.
The diet Initiative will be carried out under the guidance of Beth Zupec-Kania, RDN from the renowned Charlie Foundation.
I will have the pleasure to bring my expertise of Angelman syndrome and diets. I will share all the positives outcomes I obtained with LGIT/MCT but also provide caution and reminders that this is a medical diet and must be done under the supervision of your doctor.
The AS Diet Initiative is sponsored by Gary Taubes, co-Founder and Director of Nutrition Science Initiative (NuSi), and Robert Goldstein.
We are extremely thankful to Gary Taubes and his ongoing support to help us spread awareness of the wonderful effect of the diet on our children health.
If you would like to learn more about AS Diet Initiative or request an invitation to join send an email to interested@trend.community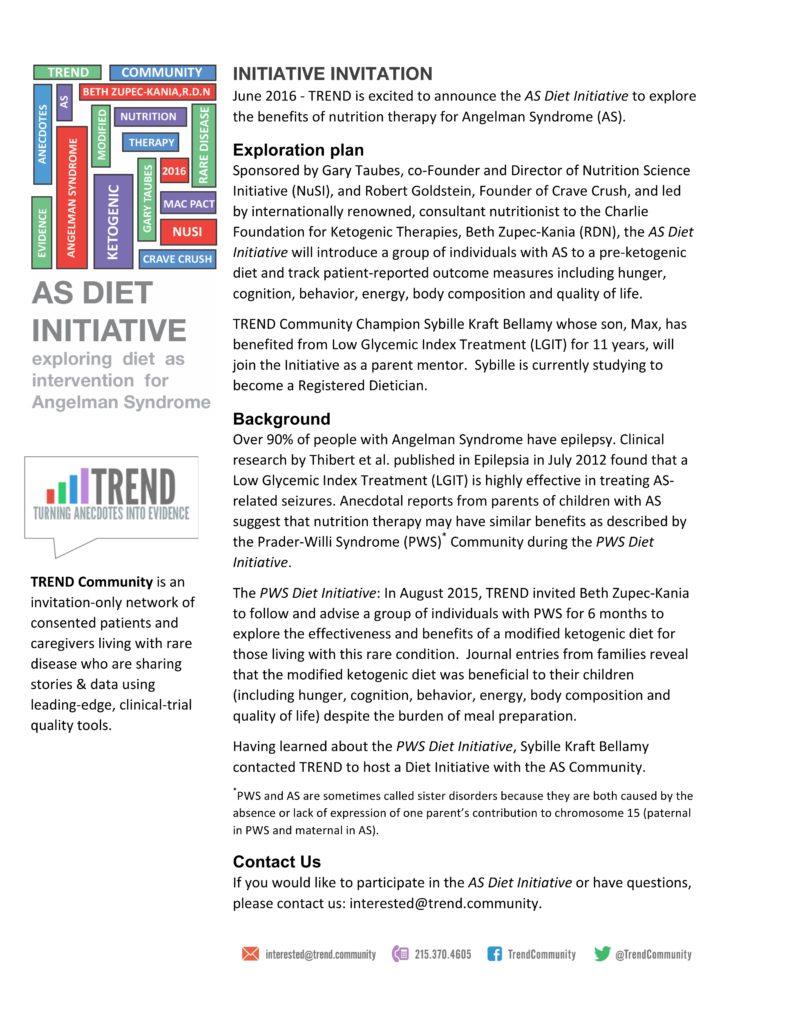 Purple Day is March 26th.
Support Epilepsy Around the World!
For more information visit
Have you seen these teal pumpkins in your neighborhood ? Check out this video and we will tell you all about it and what it could mean for your "Trick or Treaters".


Get involved, visit www.tealpumpkinproject.org for more information. Free Downloads to participate.
TPP_Flyer_Web
TPP_Bag_Insert_Web
TPP_Signs_Spanish
TPP_Yard_Sign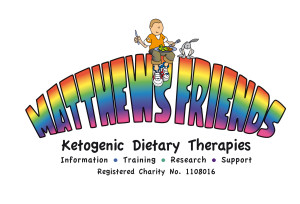 Intractable (Drug Resistant) Epilepsy;
1 in 104 people are affected with epilepsy in the UK** and over 50 million worldwide.  It is one of the most common serious neurological conditions with approximately 30 different epilepsy syndromes and over 38 different types of seizures.
The majority of cases of epilepsy can be treated successfully with modern anti-epileptic drugs (AED's) used either as single agents or in combination.  However, approximately 30% of cases are classed as having drug-resistant or intractable epilepsy, where seizures persist despite the appropriate use of two or more AED's and the possibility of achieving seizure freedom with additional medication is extremely low.
Ketogenic Dietary Therapies: 
The Ketogenic Diet was successfully used in the treatment of child and adult epilepsy in the 1920's.
As AED's became more available the diet was used less and less often, with expertise being lost from all but a few centres.  However, there has been a resurgence of interest in Ketogenic Dietary Therapies for children in recent years, due to its efficacy in otherwise intractable cases.
The treatment has been clinically validated in a number of studies and a randomised controlled trial from Great Ormond Street Hospital (Neal et al 2008).
Matthew's Friends – The Background: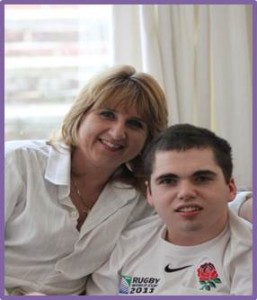 Matthew Williams (20) suffers with a catastrophic form of epilepsy called 'Dravet Syndrome' and his seizures started when he was 9 months old. Emma, his mother, asked if Matthew could try the Ketogenic Diet when he was 2 years old, but she was told the diet didn't work. So she battled on, trying innumerable medications which didn't help Matthews' seizures and which caused devastating side effects.
Six years later, Professor Helen Cross began a research trial of the Ketogenic Diet at Great Ormond Street Hospital (GOSH). Matthew and 144 other children with severe epilepsy were enrolled on the trial. Within 2 weeks of starting the diet Matthew's seizures had reduced by 90% and within 8 months he was off all medication. Sadly for Matthew, the damage had been done. Years of seizures had caused terrible brain damage, his family had broken apart and Emma was now a single mum to Matthew and his younger sister Alice.
Inspired by Matthew, she set up Matthew's Friends in 2004 to provide information, education, resources and support for other families. The charity, which was started at Emma's kitchen table, grew at a phenomenal rate. Emma is not only the Founder/Chief Executive of the Matthew's Friends Charity and Director of the Matthew's Friends Clinics, but she also works as the Parent Representative for KetoPAG
(Ketogenic Professional Advisory Group for the UK and Ireland), she runs the UK Branch of the Glut1 Deficiency Foundation, acts as an International Patron for Desi (Diets for Epilepsy in India) and is also the only non-medical member of the International League Against Epilepsy Global Task Force for Dietary Treatments for Epilepsy.  Most recently she has been honoured with an MBE from HM the Queen for services to children with epilepsy.
Matthew's Friends Today: 
Matthew's Friends has a distinguished medical board, chaired by Professor Helen Cross, the Prince of Wales's Chair of Childhood Epilepsy.  It has raised over £70,000 for GOSH's research into the Ketogenic Diet, as well as providing funding for numerous centres around the UK.  2011 saw the registration of Matthew's Friends New Zealand and is currently forming a new branch in Canada, as the organisation expands to include these regions as well as being involved with over 20 other countries worldwide in supporting the use of ketogenic dietary therapies.
The charity has now expanded its remit to help adults that are failing medication with the use of the Modified Atkins Diet and Low Glycemic Index Treatment and works with the leading experts in this field.  More recently the charity is now working in the field of certain types of brain cancer and ketogenic dietary therapies, although it is early days in the field, the contribution that Matthew's Friends makes towards making these diets more widely available and ensuring it is properly supported is internationally recognised by both parents and medical professionals.
The Charity Provides: 
-A comprehensive website which hosts a busy parental support forum and medical forum as well as providing latest research and information on dietary therapies.
-A helpline which is available to families 365 days a year.
-National and International workshops and conferences for both patients and epilepsy health-care professionals.
-An International network which includes USA, Canada, Australia, New Zealand, South Africa, Holland, Denmark, India, Hong Kong, Malta, Turkey and Portugal.
-A Professional Advisory and Training Service.
-Educational literature, Ketogenic Diet starter packs and Patient files supplied free of charge to all UK Ketogenic Centres for their patients.
-Matthew's Friends Clinics – providing Ketogenic Dietary Therapies for all who are currently unable to gain access to local services.
NONE OF THIS IS POSSIBLE WITHOUT…… Fundraising 
Matthew's Friends does not receive any government funding and are totally reliant on fundraising and donations.  By the time our families find us they are usually in a VERY bad way, dealing with a worrying and fraught situation, often fearing for their child's life. Asking them to fundraise at this time to help provide services is not desirable, therefore the small Matthew's Friends team have cajoled and badgered their friends and families to help fundraise over the years.  We welcome ALL help and are delighted to provide resources such as a justgiving page for sponsored events, running vests, sponsor forms, t-shirts and anything else that we can for those willing to support us.  Please do contact us if you can help.
CONTACT: 
Telephone: Julie Edwards 01342 836571
Email: julie@matthewsfriends.org
Matthew's Friends c/o Young Epilepsy, St Piers Lane, Lingfield, Surrey RH7 6PW
www.matthewsfriends.org & www.mfclinics.com
**  JEC (Joint Epilepsy Council) 2011 statistic