The Amazing 2014 International Angelman Day Awareness Campaign
by Paula Evans, Chairperson, FAST
We tweeted, we posted, we gathered with family and friends and we called in some heavy hitters, all to help us raise awareness of Angelman Syndrome in the most unique and fun campaign to date for International Angelman Day 2014.
It began with a simple message, Ainsley is my reason #cureangelman, and quickly spread like wildfire throughout Facebook. Newsfeeds were flooded with pictures of our beautiful children and messages of hope and inspiration. The Angelman community took a crash course in tweeting and wasted no time in flooding Twitter with tweets about Angelman Syndrome and our cause.
Foundation for Angelman Syndrome Therapeutics (FAST) spokespersons Colin Farrell, Jai Courtney and Retta created personal, heartfelt video messages to share with the world. They were quickly joined by Josh Peck, Wilmer Valderrama, Shenae Grimes, Josh Beech, Melissa Peregrym and the NBA Washington Wizards who all wanted to help us reach as many people as possible with our awareness campaign. Enrique Iglesias took time out during a concert performance to re-tweet out a message from FAST to his millions of followers. People.com, Just Jared and Wonderwall were just some of the online websites to cover our story.
In other words, it was huge!! It is impossible to tell just how many people we were able to reach but we know it was at least 4,950,382 on Twitter, 83,230 on Facebook and 22,463 via YouTube – absolutely amazing!!
After the community worked their fingers off on this very successful social media campaign, we all went out to dinner at Ruby Tuesday restaurants to celebrate and raise money. The Ruby Tuesday Give Back program raised over $9,500.00 for FAST. Online donations stand at $31,797.96 and counting. Other community events such as Skate for a Cure, Hoops for Hope, Spaghetti Lunches and other community and restaurant fundraisers should bring our total to at least $65,000.00 – enough to fund much needed research.
To view celebrity videos, please visit our website at www.CureAngelman.org. FAST cannot possibly thank everyone who participated in International Angelman Day 2014 and made it more successful than we could have ever imagined. Well done Angelman community, well done!!

To Celebrate International Angelman Day and to raise awareness, we created our first Angelman Today video featuring Angel Dad Henry Sordia.  Trained by the most elite military and civil services; the Marine corps, Law enforcement, K-9 unit, and NASA Swat, nothing could prepare him for having a child with special needs (Angelman Syndrome)…
Do You Know Angelman Syndrome?
Angelman Today YouTube Channel

Trained by the most elite military and civil services, yet nothing can prepare someone for having a child with special needs.
Angelman syndrome is a neuro genetic condition, often misdiagnosed as Autism or Cerebral Palsy. Symptoms include developmental delay, seizures, no speech, limited mobility, a happy demeanor – frequent laughing, smiling and excitability.
International Angelman Day Feb 15th
For more information visit www.angelmantoday.com
Download the Free PDF presentation
Angelman Syndrome presentation
In honor of International Angelman Day we are sharing with you a presentation for your information and to share with others about Angelman Syndrome. This document was created by Sybille Kraft Bellamy and reviewed by Ben Philpot PhD. of the University of North Carolina School of Medicine.
Feel free to use this document to share with others or in helping you create a presentation as we all raise awareness for International Angelman Day on February 15.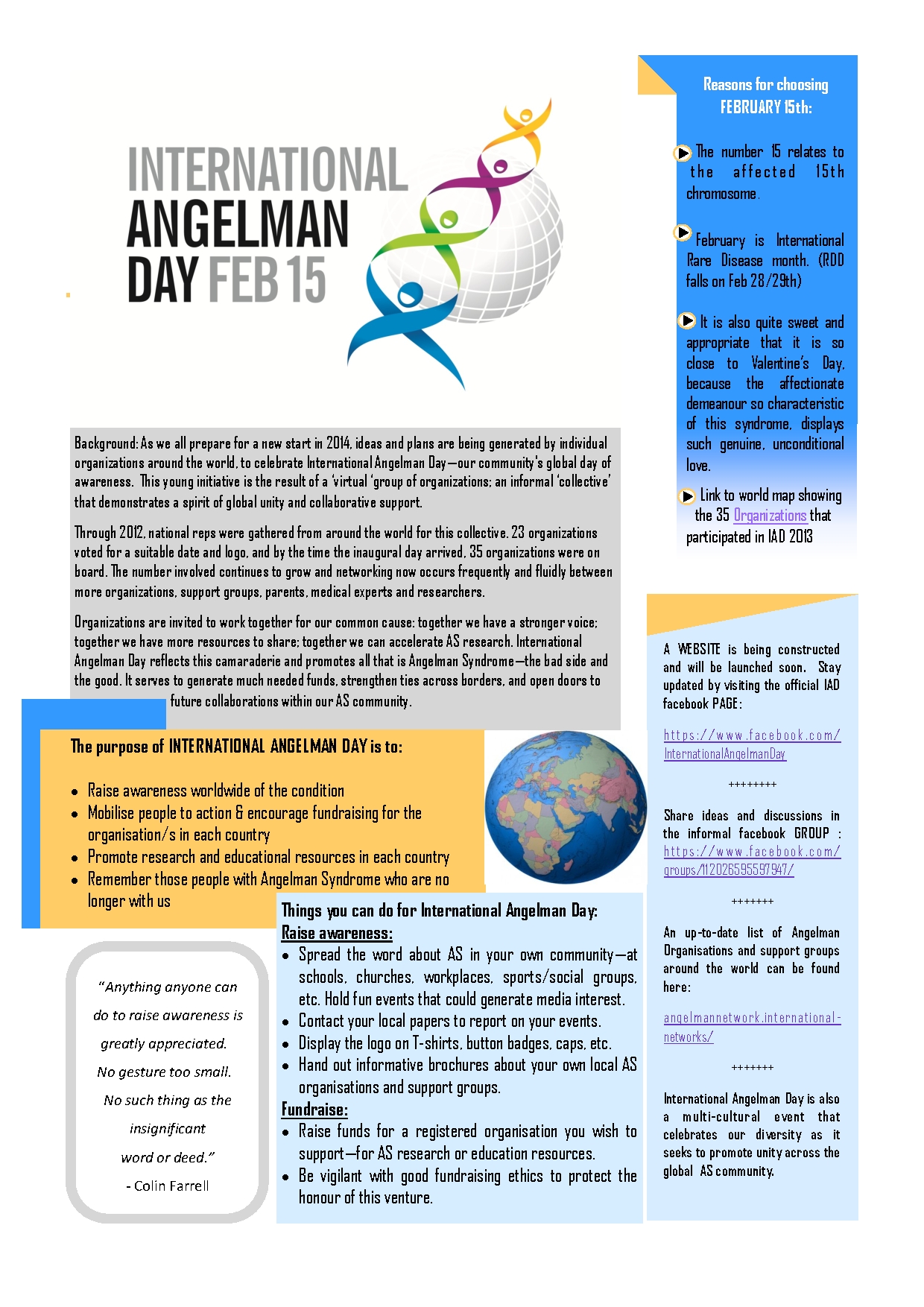 As we all prepare for a new start in 2014, ideas and plans are being generated by individual organizations around the world, to celebrate International Angelman Day—our community's global day of awareness. This young initiative is the result of a 'virtual 'group of organizations; an informal 'collective' that demonstrates a spirit of global unity and collaborative support.
Through 2012, national reps were gathered from around the world for this collective. 23 organizations voted for a suitable date and logo, and by the time the inaugural day arrived, 35 organizations were on board. The number involved continues to grow and networking now occurs frequently and fluidly between more organizations, support groups, parents, medical experts and researchers.
Organizations are invited to work together for our common cause: together we have a stronger voice; together we have more resources to share; together we can accelerate AS research. International Angelman Day reflects this camaraderie and promotes all that is Angelman Syndrome—the bad side and the good. It serves to generate much needed funds, strengthen ties across borders, and open doors to future collaborations within our AS community.
Reasons for choosing
FEBRUARY 15th:
February is International Rare Disease month. (RDD falls on Feb 28/29th)
It is also quite sweet and appropriate that it is so close to Valentine's Day, because the affectionate demeanour so characteristic of this syndrome, displays such genuine, unconditional love.
Link to world map showing the 35 Organizations that participated in IAD 2013
The number 15 relates to the affected 15th chromosome.
The purpose of INTERNATIONAL ANGELMAN DAY is to:
 Raise awareness worldwide of the condition
 Mobilise people to action & encourage fundraising for the organisation/s in each country
 Promote research and educational resources in each country
 Remember those people with Angelman Syndrome who are no longer with us
"Anything anyone can do to raise awareness is greatly appreciated. No gesture too small.
No such thing as the insignificant
word or deed."
– Colin Farrell
Things you can do for International Angelman Day:
Raise awareness:
 Spread the word about AS in your own community—at schools, churches, workplaces, sports/social groups, etc. Hold fun events that could generate media interest.
 Contact your local papers to report on your events.
 Display the logo on T-shirts, button badges, caps, etc.
 Hand out informative brochures about your own local AS organisations and support groups.
Fundraise:
 Raise funds for a registered organisation you wish to support—for AS research or education resources.
 Be vigilant with good fundraising ethics to protect the honour of this venture.
A WEBSITE is being constructed and will be launched soon. Stay updated by visiting the official IAD facebook PAGE:
https://www.facebook.com/InternationalAngelmanDay
Share ideas and discussions in the informal facebook GROUP : https://www.facebook.com/groups/112026595597947/
An up-to-date list of Angelman Organisations and support groups around the world can be found here:
angelmannetwork.international-networks/
International Angelman Day is also a multi-cultural event that celebrates our diversity as it seeks to promote unity across the global AS community.