By Efi Paschalidou
My husband and I wanted a child more than anything else in the world.  After two years of trying we saw the magic line on the pregnancy test. Our joy was unspeakable. But unfortunately my pregnancy was difficult from the start. Placental abruption, hemorrhage, contractions from the 6th month, not being able to feel the baby, prematurity.
We said that it is our child and we would adore it even if something went wrong. 
Finally we held her in our arms after many days in the incubator.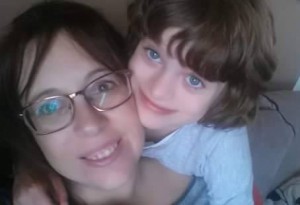 Our doctor and the other doctors in the hospital told us that our baby was fine, that it was a little "behind" due to prematurity.  It was like a black veil was blinding them and they couldn't see our child's problem.
But something was eating me alive. I feared that something was wrong.  Thought I felt the happiest woman in the world.  I had a wonderful family and a "healthy" baby.
A "healthy" baby! What a big word!
We thought we were the happiest people on the earth.I don't know if we are happy but we sure live a lot of happy moments with our children, each one in her own way.  We also have a three-year old little girl who adores her sister.
Our griefs began very soon, she was only 7 months when we had the first diagnose. "Your child has a psychomotor retardation, hypotonic.  You should begin physiotherapy". Those terms were unknown to us. Where should we go, what should we do, how could we help our child in the best way?
We went to many doctors and heard a lot of things but of course nothing comforting. I was crying all day, I felt like hitting my head on a wall, I wanted to take my child and just disappear. And in my head a big question "God, why us?"
But I had to bring myself back together for my child.
I couldn't see her crying in her therapies but I had to be strong. I could not stand the fact that I had to see her lying on her bed, unable to move properly, but when I hugged her, I knew that she was my whole life. I was the happiest person on earth.
I couldn't bear the thought of having to see carefree mothers strolling along the streets, in the parks with their babies, when I was in a hurry to be on time for her therapies.
I felt really uncomfortable when some other parents were talking about their children's accomplishments, but eventually I realized that what our daughter achieves is the most significant achievement of all.
In June 2010 when our angel was about 2.5years old we received a phone call from her pediatrician neurologist to inform us about the results of a medical test our daughter had. " something was found, your daughter has Angelman Syndrome. Come to my office tomorrow to talk about it ".
We were shocked to hear that. Instantly we started looking for information about this syndrome. We were crying reading the relevant information. We could not believe that we had hit that kind of jackpot.
The following day I called my husband from work and told him that after our visit to the doctor, I wanted to go out and have fun together. We should feel happy as we were lucky to have found what the problem with our daughter was. We should stop weeping all day long. We knew what the exact cause of the problem was and we knew what we had to deal with for the rest of our life and we had to do our best to help her. We have an angel with us and we must survive. We must stand this difficulty bravely.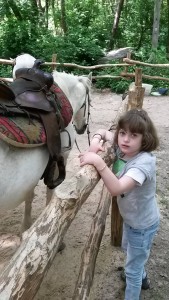 Our daughter is 8 years old now. She deserves praise for her daily improvements. when her school teachers and therapists tell us that she has improved and therapists tell us that she has improved significantly, we take courage and can cope with it.
"You enjoy what you achieve only if you worked hard for it, if you have obtained it after great efforts and sacrifices." When our angel manages to reach her goals, it is as if she had conquered the whole world
These happy moments are the reason why we don't give up and give us great strength in these difficult moments.
So many people wonder what it is like bringing up a charismatic, special child. Yes, it is true that it is difficult sometimes, unexpectedly difficult, it is beyond us. Through her eyes and her smile we can take courage and become patient enough to keep going. We may feel that we are in a dead-end, disappointed at times but we always manage to endure.
Disability is not an infectious disease. Disabled people are the real fighters. The only thing they are asking for, is acceptance. When you meet such a charismatic child do not avert your eyes, do not take your child away from it at school, or in the playground. Let it play with our charismatic child. Do not send it away.
You can be taught a lot by a disabled child. You can learn what the real purpose in life is.
I believed that I had to teach my child a lot about the world, but now I know that I have to learn the world about my child.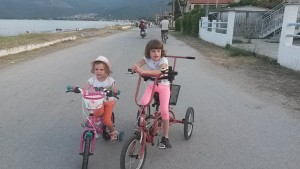 I would like to thank, from the bottom of my heart Angelman Today magazine, which gave us the opportunity to publicize this syndrome and make it known in Greece.