New resources at your fingertips
The Angelman Syndrome Foundation offers valuable resources to families and caretakers of individuals
with Angelman syndrome. Check out what's new!
ASF Educational Webinar Series
The ASF Educational Webinar Series provides you with the most up-to-date information about
living with Angelman syndrome. The ASF invites experts to speak about topics that help families
and caretakers improve quality of life for individuals with AS, addressing topics such as research
updates, clinical developments, tips for everyday living and managing symptoms, and many more. The
webinars also allow you to ask questions and interact with these experts, maximizing the value of your
participation. The webinars are intended to be a key source of information and support, and we hope
that you find this resource valuable in your journey with AS. To learn more and see the list of upcoming
speakers, please click here.
Informational Series on Angelman Syndrome Behaviors
The latest update to the Informational Series on Angelman Syndrome Behaviors, Neurologic and
Medical Influences on Aggressive Behavior in Individuals with AS, addresses the complex relationship
between aggressive behavior and management of the many medical issues that are commonly
experienced by individuals with AS. Developed by Ron Thibert, D.O., a renowned expert on AS and a
clinician at the Comprehensive Angelman Syndrome Clinic in Boston, this latest update explores how
seizures, sleep, gastrointestinal and orthopedic health, and pain management affect aggression, and
how these medical issues can increase or decrease aggressive behavior. Click here to access this update.
Rockville Centre St. Patrick's Day Parade
The ASF is incredibly honored to be chosen as the national charity to benefit for the 2014 Rockville
Centre St. Patrick's Day Parade! The Parade which takes place in Rockville Centre, New York on Long
Island, raises funds at various events throughout the year leading up to St. Patrick's Day, which are
donated to three charities. The more who participate in these events, the more money will come back
to the Angelman syndrome community! Mark your calendars for:
• January 24, Our Taste Of Rockville Centre, St. Agnes Parish Center: a food and wine tasting event
• March 16, CJ Coffee Shop Fundraiser, CJ's Coffee Shop: you'll be hard-pressed to find a better
breakfast on Long Island!
• March 21, Grand Marshall Reception, RVC Links: a formal reception honoring Grand Marshall
Sean O'Rourke
• March 22, PARADE DAY! Commemorative Mass at St. Agnes Cathedral followed by the Parade
down Maple Avenue
Save the Date! Mark your calendars for the 2014 ASF National Walk on May 17th. There are 29 walk sites this year and we look forward to seeing you!
Welcome our new Board members
Please join the Angelman Syndrome Foundation in welcoming two fathers to individuals with AS to the Board of Directors
Justin Grill
Justin Grill is a board-certified emergency medicine physician and covers three emergency rooms for Emergency Health Partners along Michigan's Lake Michigan shore, and was recently appointed as Assistant Director of Medical Education for Mercy Health. A public speaker and expert regarding emergency issues with individuals with Angelman yndrome, Justin and his wife, Carrie, are parents to four-year-old Noah, who is diagnosed with Angelman syndrome, and his siblings, two-year-old Daniel and 10-monthold
Hannah. The Grill family has been involved with the ASF since Noah's diagnosis in 2011, and has held fundraisers in their hometown of Spring Lake, Mich. Says Justin, "As a parent and a physician, I have a keen interest in Angelman syndrome research and in supporting innovative projects that bring treatments to individuals with Angelman syndrome. Education is also a major component of my medical practice so I also have an interest in how we can best educate parents and caregivers of individuals with Angelman
syndrome and the general community, and I hope to use my skills in these areas to further support the Angelman syndrome community."
Tim Bousum
Tim Bousum works in specialty sales with AstraZeneca Pharmaceuticals. He and his wife, Maiya Dos, an architect with TriPyramid Structures, have two children: six-year-old Cooper, and three-year-old Bode, who was diagnosed with Angelman syndrome in 2011. Residents of Ipswich, Mass., the Bousum family are active supporters of the ASF, and have raised more than $45,000 during the last three years for the ASF National Walk site in Boston. Says Tim, "By joining the Board of Directors, I hope to further raise awareness of Angelman syndrome in our communities and contribute to the vision of improving the lives of our loved ones with Angelman syndrome. I have seen first hand what this  organization can do—from opening Angelman syndrome clinics at major teaching hospitals, to the Biennial Conferences that balance research, medical care, science and day-to-day living strategies at the family level, to funding groundbreaking research, the ASF is making a difference in the lives of our loved ones with Angelman syndrome."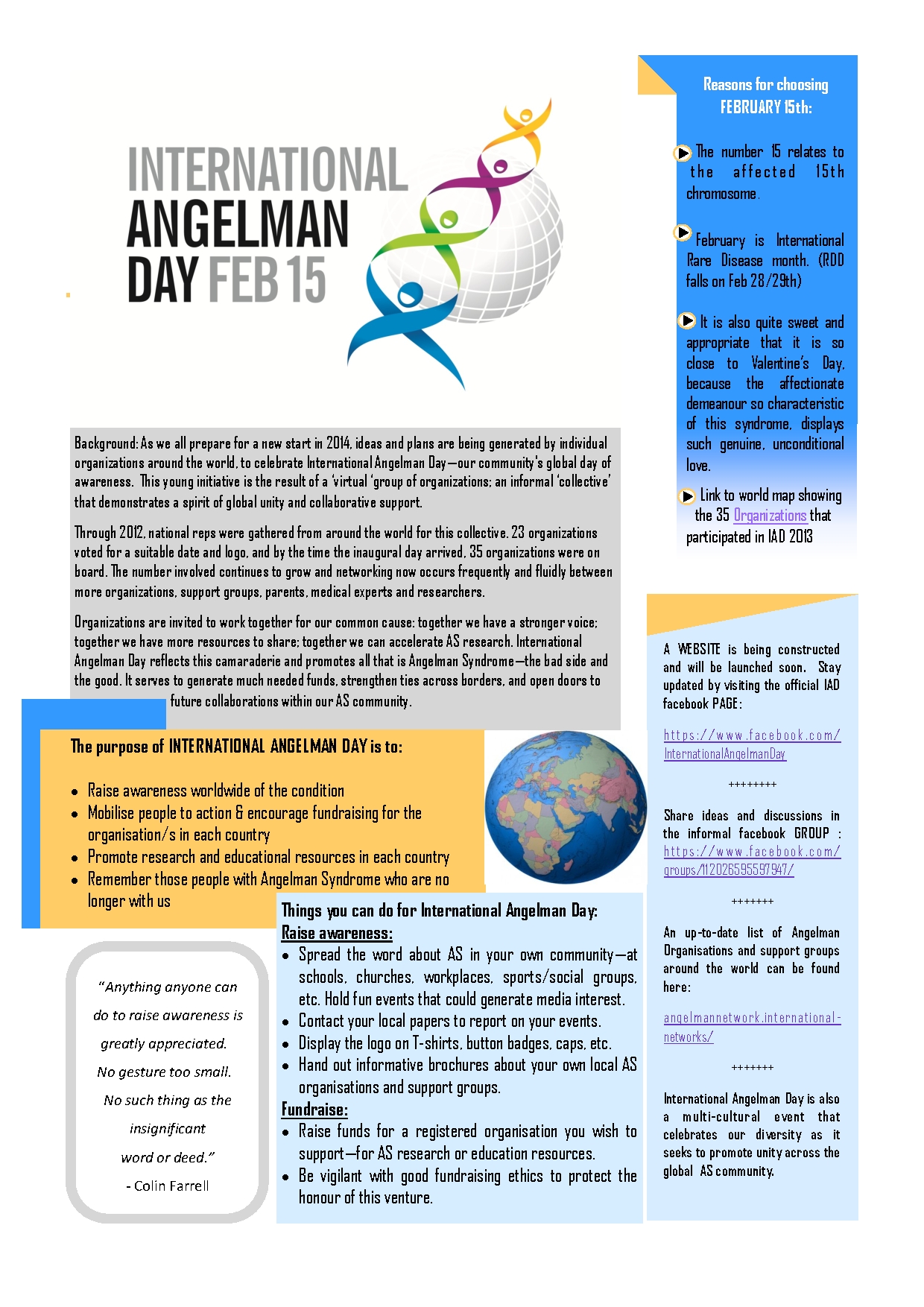 As we all prepare for a new start in 2014, ideas and plans are being generated by individual organizations around the world, to celebrate International Angelman Day—our community's global day of awareness. This young initiative is the result of a 'virtual 'group of organizations; an informal 'collective' that demonstrates a spirit of global unity and collaborative support.
Through 2012, national reps were gathered from around the world for this collective. 23 organizations voted for a suitable date and logo, and by the time the inaugural day arrived, 35 organizations were on board. The number involved continues to grow and networking now occurs frequently and fluidly between more organizations, support groups, parents, medical experts and researchers.
Organizations are invited to work together for our common cause: together we have a stronger voice; together we have more resources to share; together we can accelerate AS research. International Angelman Day reflects this camaraderie and promotes all that is Angelman Syndrome—the bad side and the good. It serves to generate much needed funds, strengthen ties across borders, and open doors to future collaborations within our AS community.
Reasons for choosing
FEBRUARY 15th:
February is International Rare Disease month. (RDD falls on Feb 28/29th)
It is also quite sweet and appropriate that it is so close to Valentine's Day, because the affectionate demeanour so characteristic of this syndrome, displays such genuine, unconditional love.
Link to world map showing the 35 Organizations that participated in IAD 2013
The number 15 relates to the affected 15th chromosome.
The purpose of INTERNATIONAL ANGELMAN DAY is to:
 Raise awareness worldwide of the condition
 Mobilise people to action & encourage fundraising for the organisation/s in each country
 Promote research and educational resources in each country
 Remember those people with Angelman Syndrome who are no longer with us
"Anything anyone can do to raise awareness is greatly appreciated. No gesture too small.
No such thing as the insignificant
word or deed."
– Colin Farrell
Things you can do for International Angelman Day:
Raise awareness:
 Spread the word about AS in your own community—at schools, churches, workplaces, sports/social groups, etc. Hold fun events that could generate media interest.
 Contact your local papers to report on your events.
 Display the logo on T-shirts, button badges, caps, etc.
 Hand out informative brochures about your own local AS organisations and support groups.
Fundraise:
 Raise funds for a registered organisation you wish to support—for AS research or education resources.
 Be vigilant with good fundraising ethics to protect the honour of this venture.
A WEBSITE is being constructed and will be launched soon. Stay updated by visiting the official IAD facebook PAGE:
https://www.facebook.com/InternationalAngelmanDay
Share ideas and discussions in the informal facebook GROUP : https://www.facebook.com/groups/112026595597947/
An up-to-date list of Angelman Organisations and support groups around the world can be found here:
angelmannetwork.international-networks/
International Angelman Day is also a multi-cultural event that celebrates our diversity as it seeks to promote unity across the global AS community.
www.angelmannetwork.com
Fundraising — and other side-effects
Otorcross
All support organizations have their own formal set of aims and objectives, programmes and plans — and all require funds to action them. Fundraising involves time and effort, which has the potential to lead to more stress. However It is often intriguing and sometimes uncanny, how a good fundraiser is able to generate many other spin-offs that are often unexpected but ultimately positive for all involved.
In New Zealand, our population is just under 4.5million. It has become a cliché to say that the 'six degrees of separation' that supposedly connect every human being on the planet are reduced to two in 'Godzone'. Most of us have either met the Prime Minis-ter, know an All Black, or have a friend or family member who knows a NZ 'celebrity'. This works to our advantage when raising national awareness about AS.
In this vein, The Angelman Network is fortunate to have many enthusias-tic families across the country who have initiated a variety of very successful, enjoyable and different fundraisers: all with a Kiwi flavour and wonderful 'side-effects'. Apart from the funds raised, they have served to distribute our AS informa-tion, raise awareness, encourage local community support, generate a wider public interest in AS and strengthen our networks. In time, this positive ripple effect will filter back to create helpful changes for our angels and families, nation wide.
Our first IAD event triggered some creative celebratory initiatives that involved angel-mufti days at schools and workplaces, a formal movie night, market stalls, raffles, and Trademe auctions. Families were very proactive with the media, result-ing in eight newspaper articles that reached out to thousands of readers across the country.
In March, Nadine Henderson facili-tated a hugely successful Charity Auction at her work's annual confer-ence. This brought in over $30K and spread awareness across Assurity's nation-wide offices, as well as to all the various businesses who had kindly donated goods.
Laura Green's family live on a large farm in a rural district. They love the outdoors and Motorcross and their unique Racing event for adults and children in honour of their angel, Lexy, was extremely well supported. With an entry fee, refreshments and raffles for sale, it was a memorable family day that strengthened ties within their local community.
Kathryn Cherie-Hope was inspired to organise a 15km Walkathon in her local district. It was a well received social event that also promoted this powerful message:
Kathryn's informative article which appeared in a local newspaper and online, and was recently spotted by Attitude TV who are interested in an interview in the New Year—an opportunity to share her story as an angel-mum, with the nation.
Looking back at 2013, it is very encouraging to see how much groundwork has been covered in diverse social sectors, through these family fundraising endeav-ours; and we thank our families for that. We will soon be depositing the takings from our Christmas Collection Buckets – a very fruitful Shopping Mall fundraiser made possible by Neil and Louise Alcock.
On track with achieving our aims and objectives, 2014 is the year The Angelman Network proposes to focus on a pro-active plan for our involvement in AS Research. 'Hope reigns
Supreme'.
[Ursula Cranmer, Chairperson ]
"We have chosen a 15 km walk because it is the 15th chromosome that is affected in AS; but also to symbolise the difficulty and length of time it takes our AS children to learn to walk, and the strength and determination it takes to get there." – Kathryn Cherie-Hope
Angel Kaya with donated goods
Kathryn with angel Joel
A Touching Story by Karen De La Fuente
There was a Meeting in Heaven.
Several angels and other souls were present, along with the usual Council members. It was time to prepare some souls for their journeys on Earth. Several Council members spoke about various topics, in hopes that these unique souls would truly grasp the missions that they were about to undertake.
"When you first emerge in your physical form, you will still feel very connected to This Side; which, ironically they call the Other Side." (A low chuckle ran through the room.) "As time goes by – and it goes by very differently from the way it passes here – you will find that the fine line between Here and There becomes thicker, harder to penetrate. Your memory of this time and this place will grow dim, until it becomes merely a notion that you actually "belong" somewhere else – somewhere
better. This happens to all souls that inhabit physical bodies. You won't even notice it happening."
"But, in your cases, there will be a difference. Because of the extraordinary lives that you will live, the fine line won't be quite as thick as it is for most humans. You will much more easily maintain contact with angels and spirit beings, and This Side. There is a reason for this – not only will your needs be different during your lifetimes, but your missions there are unique, as well. Hence, the blessing of never feeling completely out of touch with True Reality. Most humans end up believing that Earth life is Reality. In fact, This Side is Reality – Earth life is Fiction. You, the few, will be able to recall this when your lives are difficult, and your trials numerous. This blessing, we grant unto you all."
As the meeting wore on, the time eventually came for each soul to receive a Personal Blessing before departing the vast Glory they knew so well, for the unknown and untried territory of Earth life. One by one, they sat in the Seat of Blessing, and received the Gifts that that would help them most in life. They understood that this happens to all souls – but that their Gifts would be unique and enhanced – magnified, if you will.
Finally, there was one soul left to bless, and send on his way. Three angels who were magnificent beyond description stood behind the Seat of Blessing, and gestured to the soul, who approached with humility and grace. He was so excited to be on his way to Earth life, and the experiences that awaited him there! He sat humbly in the Seat, and bowed his head slightly, as he felt the angels lay their hands upon his head – the Chief Angel among them speaking in a deep, gentle, yet
powerful voice.
"You shall be called Jonathan, which means 'Gift from God.' To this family, you will be truly a gift of the Most High. Your mother has been told that she is barren – can have no children ever. You will be a miracle to her, and to your father – who chose your name when he was still a boy, in anticipation of a son to carry on his name. They will rejoice at your birth, and you will feel that joy. As time passes, your parents will realize that you are very different from the son they were expect-ing to have. Beautiful, yes. Very special to them, yes. You shall grow and be joyful, but you shall not carry on your father's name. You will not walk. You will not speak. No matter how many Earth years pass, you will remain a virtual babe in arms.
"I give you the Gift of Helplessness."
The soul wondered to himself, "the Gift of Helplessness? What kind of Gift is that? I saw others receiving much better Gifts!" "This Gift with which I endow you is mysterious and poorly understood. You are aware of the Contract that you have affirmed; that you would be born with special needs not common to most humans. You have agreed to enter Earth life in this state, with all of the accompanying trials and virtues that it entails. The Gift of Helplessness is one of the greatest Gifts. While you are unable to become independent, or live what they consider a normal life, you will be giving of yourself at all times. Your Helplessness will aid not only your family, but also everyone you meet, in giving them an opportunity to grow and develop far beyond the scope they can imagine. Your Gift will allow others to choose to assist you, and in so doing, learn extraordinary lessons that are hidden to most humans. They will learn what is truly important. They will learn how to give service unconditionally. They will learn Sacrifice in ways that others can only dream of. These priceless lessons come through your Gift of Helplessness, and the sacrifice that you are making in trusting them to see to your every need; just as all do, in infancy.
"Along with the Gift of Helplessness, I endow you with Joy. Joy in the smallest of things. Joy in living an Earth life devoid of worry, stress, temptations of the flesh, crises of faith, and fear. You cannot begin to understand what it means to feel fear – and you will never, ever have to.
"It gives me joy beyond measure to give you your final Gift. This Gift is given to a very select few who inhabit the Earth.
I now bestow upon you the Gift of Returning to Glory –
guaranteed. Your Gift of Helplessness assures that you will return Home, to This Side, no matter how long or short your Earth life is, no matter what occurs during that lifetime, no matter what your circumstances may be while you are there. You shall return whole, complete, unscarred, and unsoiled from sin or error."
Jonathan felt the angel grin broadly, even though he could not see him.
He also felt a warmth and peace the likes of which he had never known. Gone was his confusion about his Gifts. Gone was his concern about whether or not he really could live up to his Life Contract. He knew – knew – that he would take these Gifts and give his parents, their family, their friends, and even strangers to them, everything he could to help them achieve the highest level of Life possible.
Just as the angels lifted their hands from his head, and he opened his eyes, a smaller, more feminine soul approached him. His best friend on This Side! How did she come to be here, at the end of the Meeting? Well, no matter! He rushed into her arms for a hug, filled with excite-ment about entering his time on Earth.
As they embraced, the angel spoke one more time.
"We have noticed that you and this wise soul have spent much time together here, in love and devotion. She has affirmed her Life Contract recently, as well, and will be departing in about two Earth years' time for life on Earth, as well." They exchanged huge grins of shared joy at the news. "Jonathan, meet your sister. At her request, she has Contracted to watch over you and be your Earth life companion. She will help you in your journey on Earth. This, she does willingly and gleefully."
Jonathan and his soon-to-be sister hugged each other tightly, and jumped up and down with excitement. Oh! To share his Earth time with his best friend! Surely, she would make his sacrifices easier to bear, his lonely silences ring with laughter, and his times of desperation seem like mere moments. The angel touched Jonathan on the shoulder, and his best friend released him from her embrace.
"It is time."

By Mark Mautone, M.A. ABA
When educating children with Angelman Syndrome (AS), many parents look for the best schools that have teachers with extensive experience working with children with special needs. The programs that the parents observe are classrooms that educate children with different disabilities. These classrooms are categorized as Multiply Disabled (MD).  These classes are always perceived to be the "generic" solution for children who possess deficits that are difficult to address in other classes. With saying that, these classrooms can be very effective for most children. However one type of educational setting that is overlooked, is a classroom that implements the principles of applied behavior analysis (ABA). ABA is mostly associated with the field of autism. ABA is the science of applying experimentally derived principles of behavior to improve social significant behaviors. (Cooper, Heron, & Heward, 2007).
Before we go any further let's briefly define what "social significant behaviors" are and their function. To do so, I am going to breakdown the term in the simplest form.  Social means relating to people or society. Significant refers to having meaning.  However, when the word "behavior" is mentioned, most people think of maladaptive or stereotypic behaviors such as hitting, spitting, kicking, or repetitive motor/vocal behaviors.  In reality, everything we do is considered a "behavior".
Behaviors are observed in many forms such as blinking an eye, waving a hand, saying "Hi", or walking. Most people do not look at these behaviors as a "behavior" because they are automatic for most people. Unfortunately, society has always associated "behavior" with negative actions.  Let's start to think differently.  Social significant behaviors are behaviors people produce that are meaningful actions that are observe in many forms that are present in society.  This may include decreasing maladaptive/stereotypic behaviors and/or increase appropriate learning and social behaviors.
Most research in ABA relates to individuals who are diagnosed with Autism Spectrum Disorder (ASD). However, like individuals with ASD, social, communication and behavior deficits are also evident in children with AS. In the past, ASD and AS were perceived as very similar disorders.  Although research is limited in using ABA with children with AS, there are two studies (Summers, J & Szatmari, 2009 and Summers, J & Hall, E. 2008) that show evidence that select principles of ABA are effective educating a child with AS. These procedures included discrete trial, shaping, chaining, reinforcement and task analysis of skills (Summers, J & Szatmari, 2009). Summers, J & Hall, E. 2008 investigated the correct implementation of ABA teaching procedures by parents with AS using an ABA skills training manual. The results of this study showed differences in results across 4 parents. Two of the parents showed improvement in responding across 4 of 5 domains, one parent did not demonstrate change, and the last parent had mixed results that may have due to the child's disruptive behavior according to the study.
Even though there is limited research on applying the ABA methodologies there is sufficient evidence to show that educating a child with AS is effective.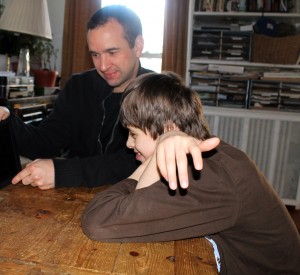 As a professional who is not only educated in ABA methodology, I am also a teacher who applies these principles on a daily basis. A few months ago I had the opportunity to meet an extraordinary young boy named Max. Max is diagnosed with AS. Max's mother, Sybille requested me to work with her son using ABA procedures.  After I evaluated Max, it was certain that we needed to work on sitting at the table and the  ability to maintain appropriate use of his hands while sitting, such keeping hands down when working. Max has a history of swiping items off the table and had difficulty sitting.  His program was only focused on those behaviors.  Those two behaviors are pre-requisites to learning and attending.  I work with Max once week for an hour. I am happy to report that by the 6th week Max was able to walk to his work area and sit down. His reinforcement is delivered for producing the target behavior with preferred videos on the iPad for keeping his hands down. We are moving into the phase of programming, which will be introducing educational programs using ABA principles.
"This article was written two months ago. Today Max is able to start the timer on the iPad, chose his activity, finish it and go to the next one. We started "proloquo2go" program and he loved it. He is learning quickly with his ABA therapist and I truly believe there is no particular age to start ABA therapy. If you have a great therapist you can do miracles with your angel." – Sybille Kraft Bellamy
Mark Mautone, M.A. ABA
ITPADD – Educational and Technology Consulting
Follow me on Twitter: ITPADD
Angelman syndrome children and adults have serious sleeping disorders.
Apart from seizures problems it is one of the most difficult aspect of the syndrome to live with. Some angels sleep only a couple of hours a night, some fall asleep easily but wake up very early and some fall asleep very late and sleep late in the morning. This can disturb the school schedule or therapy sessions and it is exhausting physically and psychologically for the parents and caretakers.
The majority of angels, do not take naps and when they fall asleep it is usually late in the afternoon which disturbs the usual sleep pattern. In order to increase the chance for our angels to fall asleep at a normal time, it is very important to keep them physically active and intellectually stimulated during the day.
For Max , del+ 12 years old, we have a very strict schedule. During the week we wake him up everyday at the same time. After that, he has breakfast and takes the bus to school. His schedule at school is very full. They rotate all the typical therapies (OT, PT, speech therapy) all day and he is physically engaged, either standing or walking throughout the day.
When he gets home from school he has a meal, playtime or therapy, and an early dinner. After that, he takes an Epsom salt bath with dead-sea salt. just before going to bed he has another meal.
"Go to sleep little baby"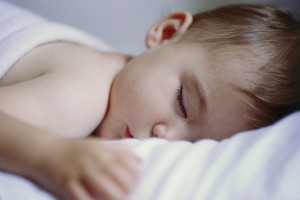 I believe our children are very sensitive to our mood and they can very easily detect our emotions. It is very important to be calm and quiet when we put our children to bed.  As soon as I put him to bed, I turn off the light immediately and tell him it is time to go to sleep. I also use an essential oil diffuser, a white sound machine and a night wave assistant. Keep brothers, sisters and pets away during this specific time in order to avoid any stimulation. You can do a feet or hand massage with coconut oil and essential oil.
Max sleeps in a homemade enclosed bed. He loves the cocooning feeling. It feels safe to him and it is his private area. He kicks us out of his bed as soon he is in it!
Keep the room temperature low at 64 degree F. If your child pushes away blankets, use a fleece pajama on top of a cotton one.  You can also have them wear cotton socks. Use dark drapes for the windows and be sure to keep the window open during the day to renew oxygen in the room.
Follow your usual routine with melatonin or other sleeping aid. Max does not take anything. Keep a cup of water or herbal tea available for your angel.
A lot of children have snoring problems at  night. The low room  temperature and a  humidifier will help the  situation.
It is normal for children  to have enlarged   adenoids and tonsils and   for that reason they   snore. Those glands are  part of the lymphatic  system. Both help protect a person from infection by trapping germs entering in the mouth and nose. Our angels are very curious and explore a lot , they put their fingers in their mouth and drool which  leaves them expose to  germs.
Nutrition is a key factor in your child's quality of sleep. The other reason for enlarge adenoids is a chronic inflammatory reaction to certain food. This very common intolerance concerns sugar, milk and gluten.
Choose kefir or plain organic yogurt, in which lactose and proteins are already broken down by beneficial bacteria. If you can, choose goat product or unsweetened non dairy products over cow products.  Most of the processed foods contain preservative and coloring, avoid all of them too.
The LGIT diet will help a lot for angels who wake up at night. The complex carbohydrates with the perfect ratio of fat and protein help temper blood sugar fluctuation and with the frequent small meals it can help reduce GERD.
Children can wake up at night when they have hypoglycemia. It is a natural brain alert to wake up if the blood sugar level is too low. When this happen try to feed your angel with a nutritious meal. A mix of coconut cream with peanut butter or seeds, an avocado or a drink with warm coconut milk and coconut oil with a tsp of coconut flour.  It happens with Max from time to time. It can be the result of a growth spur, a very busy day or a change in temperature.
A good night sleep is essential for the brain.
Many studies are calling sleep the detoxifier of the brain. We all know the effect of a bad or poor night of sleep.  Our children are prone to seizures and the lack of sleep lowers their immune system making them more fragile in case of infection.
I hope these little tips can help you to regulate your angels sleep.  We do also have a plan B and C: Use a DVR in the bedroom with a timer and keep your earplugs within reach.
The Board of Directors and the Community Relations Committee of CASS are pleased to advise that the Registration Booklet for the 13th International Conference of the Canadian Angelman Syndrome Society, "Unlocking the Possibilities" is now available.
Conference Committee Co-chairs, Tim Klein and Chris du Plessis look forward to welcoming delegates to Ottawa from 23 to 25 July 2014 to hear presentations from an outstanding slate of speakers.
For more information visit http://www.angelmancanada.org/conferences/ and download your registration booklet
See you in Ottawa!