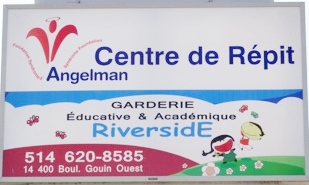 By Charles de Broin
Société du syndrome d'Angelman
The idea of offering a respite home for Angelman children was first conceived by Paolo Di Vito, Sophie Dubé and a handful of  parents and friends who were willing to dedicate time and energy to the cause.  The idea was to offer a safe and welcome home away from home to children with Angelman Syndrome.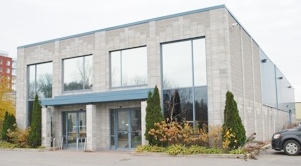 The Foundation du Syndrome d'Angelman ( angelman.ca ) obtained its letters patent in May of 2005  creating a non profit corporation for people touched by Angelman Syndrome, to promote research on the syndrome, to offer a stimulating environment for individuals afflicted with the syndrome and provide support to those nearest to them.  The goal of the organization was to gather funds to purchase a property to form a treatment center for Angelman children and adults and bring a much needed support to their families.  Under our charter the Foundation is allowed to receive donations, organize fundraising events and ultimately create community awareness for individuals with Angelman Syndrome.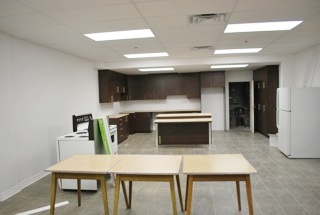 With the help of the Montreal community, many fundraising events were hosted and in 2010 the property was purchased.  The property was formerly the head office of a swimming pool sales and warehouse with a solid commercial building of over 13,000 square feet.
Refurbishing of the building to our needs required additional funds and part of the building was rented as a daycare facility.
Retrofits to the building included the construction of indoor and outdoor swimming pools, activity rooms, a cafeteria, a cinema room, a gym, respite rooms, a sensory room, offices and washroom facilities.  Final finishing work remains to be completed and adapted equipment for the specialty rooms still need funding.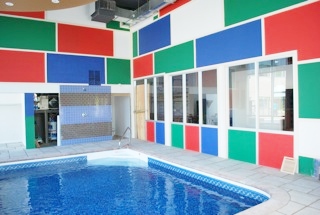 The Foundation established a partnership with WIAIH ( http://wiaih.qc.ca ) a recognized local non profit community family support organization that will be operating the center.  Operations started last fall.  The center is already used to provide a day program for adults with special needs, an after school program for high school special needs young adults within a safe and structured environment.  The respite portion will also be managed by the community organization and we hope to have it running in the very near future.
The project is no longer a dream but a reality and thanks to community involvement is evolving into a center where special needs children and adults can thrive in a safe, bright and happy place.
The project has evolved from the video presentation
(https://www.youtube.com/watch?v=9-hvKQfiOh4 ) but the concept is the same.

Baylor College of Medicine Research Discovers Potential Therapeutic for Angelman Syndrome
ASF-funded research, published in Nature, proves paternal Ube3a can be activated and AS symptoms can be recovered.
Dr. Art Beaudet
Promising Angelman syndrome research continues to move closer toward potential clinical trials, as announced in December in a paper in Nature by Dr. Art Beaudet and his research team at Baylor College of Medicine (BCM).
More research will be conducted but pre-clinical trials in AS mice have proven that the paternal copy of Ube3a can be activated and that AS symptoms can be recovered, though more testing is needed to determine exactly how the cognitive deficits associated with AS are recovered.
The Angelman Syndrome Foundation funded this research in its 2011 and 2013 research grant cycles, as part of its $8 million and growing investment in AS research with the ultimate goal of finding a cure for AS. The BCM Intellectual and Developmental Disability Research Core grant and the National Institutes of Health were also major funders of this research.
Dan Harvey, ASF Scientific Advisory Committee Chair, has provided the following summary about the research.
Background
Neurotypical individuals have two versions of the AS gene (UBE3A), one from their mother (the maternal copy) and one from their father (the paternal copy) but only the one from the
mother is expressed or "active." In AS, the maternal copy is missing (deleted) or altered in some way to render it inactive. In 2008, Goal #1 of the ASF Research Roadmap was to aggressively explore activation of the silenced or "inactive" paternal copy of the AS gene (UBE3A) as a potential treatment for AS. The studies described in this article for Nature are the culmination of those efforts.
Awakening the gene
Recent studies by Dr. Ben Philpot and colleagues at the University of North Carolina-Chapel Hill demonstrated that Topotecan, a natural product derivative with various uses, unsilences the paternal copy of the AS gene in a non-specific manner. In this new article for Nature by Dr. Beaudet, Dr. Meng and their colleagues, it is demonstrated that a small DNA analog, known as an antisense oligonucleotide or ASO, can interact with the paternal copy of the AS gene and unsilence it in a highly specific manner.
Initial studies done with isolated neurons demonstrated that treatment with an ASO causes a long-lasting unsilencing of the paternal copy of the Ube3a gene.
Treatment and recovery
Subsequent studies were done with AS mice. The ASO was directly injected into the brain of an AS mouse via a technique known as ICV (intracerebroventricular) injection. The ASO was well tolerated and partially unsilenced the paternal copy of the Ube3a gene. Additionally, it was highly specific for the AS gene, with no impact on other genes. Its activity was long lasting with unsilencing still observed sixteen weeks after treatment. When injected directly into a specific region of the brain known as the hippocampus, the part of the brain that manages cognition and learning, complete unsilencing of the paternal Ube3a was observed in the vicinity of the injection site.
Four weeks after treatment, AS mice treated with an ASO were subjected to behavioral testing and several of the behaviors typically observed in AS mice were reversed. In particular, memory impairment observed with AS mice was reversed after treatment. More extensive reversal of AS characteristics may require treatment at a younger age, a longer recovery time after treatment to allow greater rewiring of neural circuits, or a higher dosage of ASO. 
Conclusion and next steps
In conclusion, the paper states: "Well tolerated delivery, broad tissue distribution, and long duration of action sets a framework for ASOs as a viable therapeutic strategy for diseases of the CNS (central nervous system), and builds enthusiasm toward further optimization and development of an ASO treatment for AS." The next step is to conduct more testing to determine exactly how the cognitive deficits associated with AS are recovered.
Access the complete article
The full Nature paper can be accessed by clicking here. For questions about this research, please contact the ASF at http://www.angelman.org/about/contact/.
A Family's Perspective
Provided by Debra F. Sukin, mother of Jacob Sukin, who is 13 years old
Jacob is deletion positive for Angelman syndrome and was first diagnosed at Texas Children's Hospital with genetic testing in Dr. Beaudet's lab back in 2001. Jacob's diagnosis was devastating to our family as we learned about Angelman syndrome's physical and mental challenges and limitations.
While seeking the best care and treatment for Jacob to maximize his potential each year, our family set out to learn what research was available, educate others on the need for research for this rare genetic syndrome, and raise funds for research.
We are thrilled with the recent research findings by Dr. Beaudet and the genetics lab at BCM at the Jan and Dan Duncan Texas Children's NRI that was published in Nature magazine. The ability to promote the silent paternal gene in the AS mouse model and witness normalization of behavioral and learning characteristics as well as elimination of seizures and ataxia provides hope.
Jacob has a long life expectancy. Any therapeutic intervention that will improve his ability to live in this world or create a cure is exactly why we believe in research. We are so grateful to the Angelman Syndrome Foundation who funded this research along with Baylor and TCH.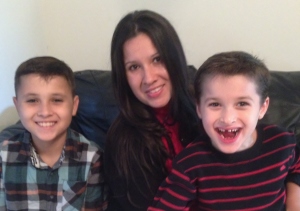 Welcome to 2015! A new year and new beginnings. I am an optimist and I believe in infinite possibilities. Every day is a fresh start to get one step closer to your goals, but entering into the new year is the time to create new goals and determine the plan of action.
This time of year is so special because I use it to plan personal goals and family goals. I sat down with my oldest son and helped him set his goals for the year. I also write down the goals I have for Nathan. I include any products or therapy services I want him to start and skills I would like to practice with him.  This could also be a time to consider if the current plan of therapies is as effective as you would like and consider how your Angel is responding to the therapies. A break from therapy can also be included in your plan. I recently had Nathan take a break from therapy for a period of time and I think it has been great for him and our family.
Whatever your goals are for the new year, I wish you all the very best in health and happiness as we continue to work hard on improving the lives of our loved ones.
Warm Wishes,
Lizzie Sordia
Editor – in – Chief
EMAIL: LIZZIE@ANGELMANTODAY.COM
FOLLOW: TWITTER.COM/LIZSORDIA
FOLLOW: TWITTER.COM/ANGELMANTODAY