This marks the anniversary of the first edition of Angelman Today and the first magazine dedicated to individuals with Angelman Syndrome, their families, care takers and  anyone wanting to know more about this genetic condition.
This year has gone by very quickly, but so much progress has been made. We have partnered with many of the Angelman Foundations across the globe to unite in a single resource that makes it easy for families and those interested in Angelman Syndrome to learn about what life is really like, be inspired by what our loved ones can do, find products and services to help them in their daily lives, support those on therapeutic diets and read about the latest AS research.
Today families are busy with work, therapies, IEP meetings and doing what they can to fundraise for the amazing AS organizations. Angelman Today gives each and every foundation the opportunity to share with parents the great things that money is being used for. We (at Angelman Today) are parents too, so we understand there is not enough time to go to all of the websites and search for information andthat is why we bring it to you in this magazine.
I want to say "Thank you" to everyone for your support and the well wishes as we celebrate our first year! We look forward to many more!
Warm Wishes,
Lizzie Sordia
Editor – in – Chief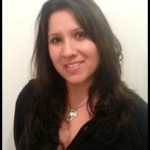 We are on our way to reaching our $1.2 million fundraising goal in support of the AS community
The Angelman Syndrome Foundation and the entire Angelman syndrome community are incredibly grateful for everyone who attended, donated to, and volunteered in support of the 2014 ASF National Walk. Nearly 10,000 individuals across the country participated in the 30 Walk sites this year, raising hundreds of thousands in support of AS research and direct family support.
We are edging closer to our $1.2 million fundraising goal and need your continued support to reach that goal. Here's how you can help:
• Ask your employer about matching gifts. Many employers will match employees' donations to non-profit organizations, and all you need to do is ask!
• Host a fundraiser. With the Walk behind us, use creative ways to raise additional funds, such as bake sales, doing summer chores, dinner parties, and workplace potlucks.
• Send 5 emails to 5 folks asking for $25. Ask those close to you if they haven't already donated to do so in this smaller increment.
THANK YOU, Rockville Centre St. Patrick's Parade
During the ASF National Walk on Long Island, the Rockville Centre St. Patrick's Parade committee presented its $30,000 donation to the ASF amid much fanfare. The ASF was chosen as one of three charities to benefit from funds raised during the St. Patrick's Parade in March, and other events leading up to the Parade. The ASF is incredibly honored and appreciative to the Rockville Centre community, and all individuals who supported the Parade for their immense contributions in raising funds to support the AS community!
ASF Scientific Symposium in August
The ASF brings together the best and brightest in AS research every year by funding the ASF Scientific Symposium, taking place August 14-16 in Cambridge, commencing the day after Harry Angelman's birthday on August 13! The ASF embraces collaboration by bringing together researchers of other related disorders to drive further advancements in AS research, and the Dup15 Alliance is joining this year's Symposium to broaden the scope of research discussed. Researchers will be discussing the current state of AS and Dup15 research to compare findings, discuss best practices, and work to move research closer towards clinical trials.
Funds raised during the ASF National Walk and other events support ASF-funded research grants and the Joseph E. Wagstaff Postdoctoral Fellowship. The Wagstaff Fellowship fosters the brightest and best young researchers in pursuit of AS scientific discovery, and the 2014 call for applications will be issued in the near future. Treatments resulting from the ASF's $6.2 million investment in research help individuals with AS live better lives today, and that same investment has also discovered pathways towards a cure, leading to better lives tomorrow for individuals with AS but requiring ongoing financial support.
Educational Webinar Series
View Previous ASF Educational Webinars on YouTube
Nearly 2,000 have participated in the ASF Educational Webinar Series, which helps families and caregivers stay up-to-date with a wide range of important topics related to AS, including research updates, clinical developments, tips for everyday living and managing symptoms, and many more. Attendees have the ability to ask questions and interact with the speakers, who are experts in their respective field. Click here to view past ASF Educational Webinars on the ASF's YouTube Channel, including the most recent webinar by Dr. Art Beaudet who discussed how his ASF-funded research is making significant progress.
Individual Education Plan Bank…Time to Start Planning!
Summer is here, and it is time to start planning ahead for next school year! An Individual Education Plan (IEP) is used in an academic setting for planning and performance evaluation with the educational team assisting your loved one with AS and your family. Development is personal to each individual, even more so with individuals with AS, and a well-crafted IEP can significantly help your loved one stay on track with his or her personal goals. The ASF IEP Bank is a platform to exchange IEP goals and objectives to assist you and your student's educational team in planning her/his IEP. Click here to begin using the ASF IEP Bank.
Angelman Syndrome Foundation
www.Angelman.org (800) 432-6435 Int'l (630) 978-4245 info@angelman.org
Sign-up to receive the ASF's weekly email update to stay tuned with research, family support and other AS community updates!
"Let's make the journey together" Conference 10-11th May-Madrid
This past 10th and 11th of May, Spanish Angelman Syndrome Association conducted a professional conference in Madrid under the title of let's make the journey together for parents and professionals who deal with our children.
The conference was a success both because of the level of participation as well as the professionals who were there and shared their knowledge. The association undertook the commitment of holding this conference during an assembly. We do believe that our expectations became self-fulfilling, both in participation as well as chosen issues.
In addition, you can find some brief summaries of conference presentations. Videos will be available to anyone who is interested on our YouTube channel.
Genetic aspects of Angelman Syndrome. PhD Pablo Lapunzina, head of the Institute of Genetics and Molecular Medicine (INGEMM), the Hospital La Paz (Madrid), member of the advisory committee at Dravet Syndrome Foundation PDh.
Pablo Lapunzina, made a complete introduction to Angelman syndrome reminding its characteristics and genetic mechanisms. He explained dicult concepts to grasp such as methylation and genomic imprinting with simples terms. Then, he went on to outline the genetic mechanisms that cause Angelman syndrome (deletion, paternal uniparental disomy, mutation in the UBE3A gene and clinical cases), he also talked about the occurrence of each one. He spoke openly about diagnostic techniques that are being currently used to conrm Angelman syndrome.
To conclude, he delved into the key themes: sleep disorder. He recommend us to create a safe sleep zone and the measure that we should take to treat such disorders.
Treatment of behavioral disorder related to Angelman Syndrome, PhD Ignacio Sanchez Cubillo, clinical neuropsychologist of adults, children and youth in brain injury (Red Menni, Bilbao) and at the Balearic Institute of Psyquiatry and Psychology (Palma de Mallorca).
Phd Sanchez Cubillo, neuropsychologist, tried to explain the concepts and basis ideas that parents must understand in order to bear in mind the current behaviour that we notice with our children. Behaviour always has a reason, they pursue an objective (attention, power, revenge, etc…) and we need to figure out these objectives in order to understand their behaviour, at the same time we will be able to modify misconduct.
According to Pdh. Sanchez, it is essential to analyze in depth the context of behaviour that needs to be corrected. For that reason, it is necessary to take into account what happened before and during the misconduct and value our reaction to it. The behaviour of our children will be modied when we modify our reaction to such conduct. This is why it is essential to know if our reaction was correct or not.
During his presentation, Pdh Sanchez analyzed and explained the guidelines you should follow with real cases.
Introduction to PECS workshop PhD Sonia Vilatela Verdes, speech therapist and managing director at Pyramid Educational Consultants – Spain (www.pecs-spain.com).
Sonia Vitatella Verdes, introduced us to picture exchange communication system (PECS). The rst thing that she explained to us is that we are not always using PECs when we are using any king of images, it is essential a picture exchange among users with a clear feedback intention. PECS starts teaching how to carry out spontaneous requests, and then to add additional communicative functions such as answer questions and comment.
PECS has 6 phases:
•PHASE I: how to communicate. The child is trained to initiate communication, with one picture at a time (non discrimation)
•PHASE II: distance and persistence. Aid and support are progressively eliminated.
•PHASE III: Discrimation. The child learns to select the appropriate picture (simple discrimation). Then, he/she learns conditional discrimination.
•PHASE IV: the child learns to construct simple senteces by using expressions such as "I want…"
•PHASE V: the child is taught to respond to the prompt: "what do you want?"
•PHASE VI: the child is taught to make comments about what they see, hear,etc.
Sonia spoke about the importance of making generalizations in every possible context: family, school, etc.
When epilepsy is only a part of the clinical case: advances and challenges in the treatment of drug-resistant epilepsy, PhD Ana Mingorance, head of Technology and Innovation at Dravet Syndrome Foundation, she works in Brussels as specialist in epilepsy, Alzheimer and Parkinson diseases. Dr. Ana Mingorance, analyzed in depth the various types of epilepsy and the
incidence each one has. According to her, drugs are progressing rapidly to control seizures, although it is still unknown what causes the seizures. She commented on the fact that some kind of epilepsies cannot be controlled with drugs. Numerous parents asked about the characteristics of the seizures experienced by their children such as fainting, convulsion and possible solutions to these problems. According to Mingorance, it is very important to spend money on epilepsy research and the search of new drugs which can help to control seizures and the effect that they have on children.
ROUND TABLE:
At the end of our Professional Conference we had a round table, exclusively parents of children with Angelman syndrome. The aim was to create a space in which everybody can talk about concerns, share experiences and worries. Several issued emerged during the topic, including sleep disorders. We discussed and raised issues about routines, whether it is important or not to establish and keep routine associated with bedtime. We also talked about the options that each family has selected for their children: sleep alone in a room or share the room with his/her parents, end up with him/her when he/she wakes up, etc. Sphincter control was has also been much discussed how to teach children to use the toilet and remove diaper at night.
We also share some tricks to make daily life easier, for instance get kids to wear their glasses, collaboration during bathtime, dress, undresses, ect…
We could have stayed talking for a few hours; the time seemed too brief for too many things that we wanted to share. It was a great group therapy group which helped to bring emotions to the surface.
The two-day event was recorded also and it is available to anyone interested on our Angelman Syndrome association youtube channel.
http://www.youtube.com/user/SociosAngelmanASA
Hello Summer!!
By Sybille Kraft Bellamy
"True health starts with fresh fruits and veggies"
Summer is the perfect time to enjoy seasonal fruits and vegetables.
The LGIT diet is a healthy diet when a high diversity of good quality products are used.  No "strange" food! Only real natural food without packaging! Our family, like most of the families who have an individual following the LGIT, eat low glycemic food. The principal difference is the modification of the fat ratio. Max has a higher fat ratio in all his meals in order to obtain the effects of the LGIT. Since mid spring, we have been able to find great fruits and vegetables at very reasonable prices. Vitamins and minerals are essential to our health and critical for our developing children. The best way for our body to metabolize vitamins and minerals is to have them in their natural form and not synthetically. Pills will never replace a healthy diet.
Everyday Max drinks a freshly prepared raw vegetable juice with carrots, cucumber, spinach, mint and olive oil.  He drinks about 4oz just before his snack. It stimulates his bowel movement and triggers his appetite.
The list of fruits and vegetables for the LGIT is very large and covers most of the regular products we should all have in our kitchen, nothing out of the ordinary! I will never stop insisting of the amazing effects the diet has on Max's health.
This winter was long and very cold. Unfortunately, Max got quite sick at the end of it, contracting the flu, strep and mononucleosis (basically simultaneously). He was very tired he did have very small amount of medication to help him. He was definitely under the weather but we were not scared about his condition. We had no hospital trips and very little stress. His mood was excellent, he did great at school (only out four days) and was sleeping more than usual.
He is a trooper and a warrior because his has the good weapons to fight!
By Edwin J. Weeber, Ph.D.
Learn Mem. 2014 Jan 16;21(2):98-104. doi: 10.1101/lm.032375.113.
Activity-dependent changes in MAPK activation in the Angelman Syndrome mouse model.
Filonova I1, Trotter JH, Banko JL, Weeber EJ. Author information 
Kaphzan H1, Buffington SA, Ramaraj AB, Lingrel JB, Rasband MN, Santini E, Klann E. Author information
Abstract:
Angelman syndrome (AS) is associated with symptoms that include autism, intellectual disability, motor abnormalities, and epilepsy. We recently showed that AS model mice have increased expression of the alpha1 subunit of Na/K-ATPase (α1-NaKA) in the hippocampus, which was correlated with increased expression of axon initial segment (AIS) proteins. Our developmental analysis revealed that the increase in α1-NaKA expression preceded that of the AIS proteins. Therefore, we hypothesized that α1-NaKA overexpression drives AIS abnormalities and that by reducing its expression these and other phenotypes could be corrected in AS model mice. Herein, we report that the genetic normalization of α1-NaKA levels in AS model mice corrects multiple hippocampal phenotypes, including alterations in the AIS, aberrant intrinsic membrane properties, impaired synaptic plasticity, and memory deficits. These findings strongly suggest that increased expression of α1-NaKA plays an important role in a broad range of abnormalities in the hippocampus of AS model mice.
Synopsis:
The axon initial segment (AIS) is an area of the neuron that controls whether that neuron fires or not. Synaptic activity has to be coordinated in order to depolarize the neuron to a threshold that allows the neuron to fire and give input onto another neuron. This is the basics of how signals from your visual cortex (reading this sentence) is processed and determined if it is of importance to have this become a long-lasting memory. This highly coordinated process relies on the synapse of course; however, the outcome of synaptic activity is the firing of activated neurons. This is one of the first studies to measure differences in the AS mouse model at the AIS and find increases in a protein called α1-NaKA, which is a sodium / potassium ATPase. This protein controls the excitability of the neuron. This paper not only describes a seminal finding in a potential therapeutic target outside the synapse, but also fundamentally changes how we see the global effect of Ube3a deficiency.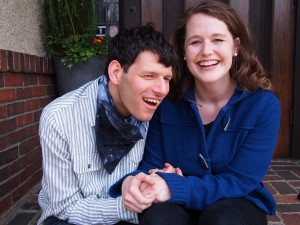 We've all heard stories about unexpected encounters that change people's lives in profound ways. While not all of us have experienced that kind of event, Dr. Anna Larson is one who has.
It came when she was applying to medical schools. A friend mentioned that a couple she knew was seeking a caregiver for their son, Jake Pritzker, a young adult with Angelman syndrome (AS) living in St. Paul, Minnesota, and Anna accepted the task. Once she started working with Jake, it helped focus her future plans on specializing in pediatric neurology and in particular, epilepsy and AS. It is a path she is still pursuing, though her accomplishments are already quite impressive.
Today, as a recent graduate of the University of Minnesota Medical School, she is preparing to start a residency at the prestigious Massachusetts General Hospital, where she will work with Drs. Elizabeth Thiele and Ronald Thibert, leading Angelman Syndrome Foundation (ASF)-funded researchers and AS clinicians, and members of the ASF Scientific Advisory Committee. In fact, she previously had a chance to assist in research at Mass General while in medical school. That work, too, was inspired by her time with Jake.
"We grew very close," Anna said. "Being able to have Jake in my life before and during medical school was incredibly important to me. The chance to spend time with him was always very grounding and helpful to me because it expanded my focus from flash cards and exams to the people I wanted to care for."
Although fond of science throughout her early years and during her undergraduate studies in chemistry at Carleton College, Anna had been unsure of her precise path for the future. "Some kids grow up knowing they are going to be, say, a cardiothoracic surgeon for sure," Anna said. "But I didn't know what kind of doctor I was going to be. Caring for Jake and learning about him and AS was fundamental in terms of helping me find my path in pediatric neurology."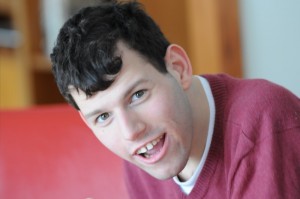 Anna's inclination toward a medical career may even have had its earliest roots in her childhood. When she was in grade school, she took piano lessons in a neighboring town. Her dad drove her to the lessons, and on the way home, because he was a pastor, they would often go to the hospital to visit patients. "I have such strong and positive memories of that, of being at the hospital and being comfortable with my dad there. I think in some ways that was an important piece for me, too.  In high school, I also had a phenomenal biology teacher who was very inspiring for me in many ways and very much helped me find my stride in science."
Anna's work with Jake has also led to an active role with the ASF. "I was very, very lucky," she said. "When I first met the Pritzkers, Fred was president of the ASF. I started working with Jake in the summer of 2006, and I was able to go to the ASF Biennial Conference in St. Louis in 2007. "I met a lot of families and heard incredible talks while there. Later, while conducting research at Mass General in 2011, I attended the ASF Conference again in Salt Lake City and had the opportunity to present research at the ASF Scientific Symposium and during the Conference."
With nearly two-dozen publications and presentations to her credit, Anna's body of research is already impressive. "Some of our most exciting research has focused on the efficacy of the low-glycemic-index treatment/diet (LGIT) in AS," she explained. "LGIT was developed by Dr. Thiele and dietician Heidi Pfeifer at Mass General ­and is a modified version of the ketogenic diet, which is a very low-carbohydrate diet that's effective in seizure management for some patients."
"Another important project looked at adults with AS. We conducted an interview series with parents and caregivers of adults and adolescents over the age of 16 by phone. Then we compiled those results and presented them at conferences. Now we are in the final stages of publication of those results, which are currently in peer review. This is the project that was most inspired by my work with Jake."
Of her day-to-day work with Jake, Anna said, "When we are together, we organize his daily schedule. He's involved in his community with a group called Highland Friendship Club. It's a wonderful organization for young adults both with and without disabilities for social inclusion and involvement in community. They do volunteer work in the area and have fitness classes, art classes, cooking classes and weekend movie night. We often spend time with his friends. We have meals together and exercise together, too."
Anna recalls one particular day when she took Jake to visit his grandfather, who was in a nursing home at the time. The staff had set up a balloon-volleyball net in the dining room and divided residents and guests into teams. "Jake was the team captain," said Anna, "and he was so into the game! It was a really special day for me."
Anna reports that Jake, now 29, is doing quite well. And she believes the future holds promise for individuals with AS. "I think it's a really exciting time, a very hopeful time in history," she said. "We're continuing to learn more and more about the neurogenetics of AS, and seeing the work of the ASF is phenomenal in terms of research funding and supporting individuals with AS and their families directly. The research and the energy around research in AS continues to build in many ways due to the support and focus of the ASF."
As for her own future, Anna is eager to begin her residency at Mass General. It will take five years, the first two of which will focus on general pediatric care. The following three years will be spent in the neurology department. At the end, she will be board eligible in both pediatrics and neurology.
"After my residency, I intend to pursue an epilepsy fellowship to become a specialist in epilepsy care," she said. "I am interested in working in an academic center, potentially in the future to be involved in teaching. For my clinical practice, I'm interested in the possibility of being a caregiver for kids over time. It's a real honor and privilege that child neurologists often have, working with kids as they grow up. I hope to have a joint focus on both clinical care and clinical research. That's the dream anyway!"
That dream of Anna Larson's continues to come closer to reality. As she embarks on her residency at Mass General, there is little doubt that the inspiration she found in Jake Pritzker will stay with her throughout her career. "I look back at this experience as defining my dedication to pediatric neurology," she said. "Through Jake, I have found my passion."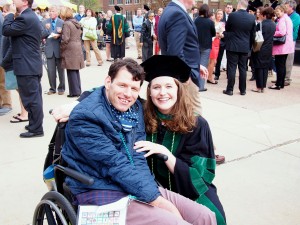 By Claire Lerman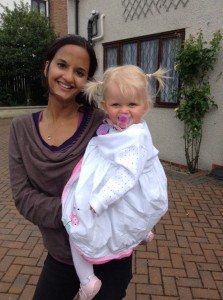 On the 28th June 2013 our beautiful little 16mth old Eva was diagnosed with Angelman Syndrome.
Just 4 months after her diagnosis Eva started with epilepsy and has been in & out of hospital numerous times. All the medications we were given completely failed to control Eva's seizures.
We had read about something called a Ketogenic diet & we were desperate for Eva to be able to try this as a form of medication. After battling to get consent to go onto the diet we eventually had our neurologist's consent.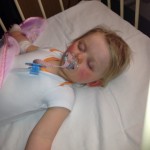 Eva started the diet on the 4th March 2014 at which point her seizures had ramped up to a level where she was having them every minute of every day. Amazingly within 48hrs of starting the diet they stopped completely! We have not seen any seizures in the past 3 months! Our lives have been transformed & we hope and pray that it continues.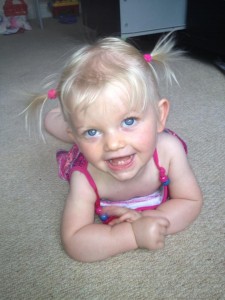 Claire is so passionate about the success that Eva has experienced on the Ketogenic she has created a facebook page to document Eva's Journey. It is her goal to share with families that they too can give it a try to see if it will work for their child. Check it out at:
www.facebook.com/pages/Evas-Ketogenic-Angelman-Journey
If you are interested in starting your Angel on the Ketogenic diet please remember this is a medical diet and seek medical assistance.
Dr. Ron Thibert – Massachusetts General Hospital Department of Neurology 617-726-6540
Dr. Elizabeth Thiele – Massachusetts General Hospital Department of Neurology 617-726-6540
Online Resources:
Angelman Syndrome Ketogenic Diet