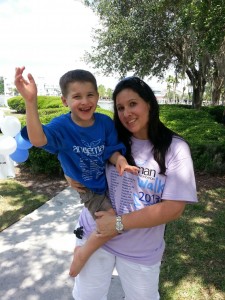 May is here and many of us in the US are gearing up for the annual walk for the Angelman Syndrome Foundation.  This will be my fourth year hosting the walk in Orlando, Florida.
After my son Nathan was diagnosed, our geneticist handed us some information about AS by the Angelman Syndrome Foundation. I quickly went to the website to learn as much as I could. When I learned of the annual walk that I could host in my area, I had to get involved. I wanted to meet other families and see other Angels. I did not know how I was going to pull it off, but I was determined and when I get determined… watch out!
I can hardly describe the feelings I felt when meeting so many families, hearing their stories and seeing the abilities of the Angels. After my first walk I had this overwhelming feeling of joy that helped heal a small part of me that was broken hearted about the diagnosis. I was happy to raise funds for research that not only is searching for a treatment but is discovering ways to help individuals with AS today, like treating seizures with the Low Glycemic Index Diet.
It is a true blessing when we can take time out of our crazy schedules and get together as a community and raise funds for any AS organization. I hope you all have a wonderful time.
Warm Wishes,
Lizzie Sordia
Editor – in – Chief
 Activity-dependent changes in MAPK activation in the Angelman Syndrome mouse model
Written by Richard Newton; edits by Rebecca Burdine, Ph.D.
Angelman Syndrome (AS) is caused by loss of functional UBE3A protein expression from the maternal chromosome in affected individuals, but the specific roles this protein plays in the human brain are still being discovered.
The UBE3A protein functions as an ubiquitin ligase, adding ubiquitin to specific protein targets which typically marks them for destruction. Since ubiquitin ligases are involved in the break down and clean-up of proteins that have reached the end of their usefulness, they are sometimes referred to as "housekeeping proteins." Housekeeping proteins are those involved in the routine maintenance of basic cell function and are thought to be expressed at fairly constant levels in different conditions (1). However, research is showing that there is more going on with how and why the UBE3A gene is expressed than is expected of a housekeeping gene.
Recent research conducted by Dr. Weeber and his team (2), funded by FAST, is shedding more light on the expression of the Ube3A gene in mouse – the triggers that cause the gene to create its protein. In their paper, Activity-dependent changes in MAPK activation in the Angelman Syndrome mouse model, Dr. Weeber and his team show that not only did they observe that neuronal activity could regulate expression of maternal Ube3a, they observed changes in the amount of paternal Ube3a expression as well.
Most of what we have learned about the expression of Ube3a protein was determined while the system was at rest. That is not to say it was static, because biological systems rarely are, but the neurons weren't being stimulated by excitatory or inhibitory input – they were essentially "resting". A recent paper by Greer in 2010 demonstrated that Ube3a expression was upregulated during induced seizures or in response to new environments, suggesting a link between neuronal activity and Ube3a expression (3). This current report extends those findings and demonstrates that "learning events" increase Ube3a protein levels. Intriguingly, the increase in Ube3a protein came from expression of both the maternal and paternal genes in the hippocampus. Thus, the notion that the paternal gene is "silent," or not expressed, in the brain is beginning to be challenged.
Additionally, the research showed that lack of Ube3a protein prevented activation of other proteins, specifically the ERK (Extracellular-signal-Regulated Kinases)1/2 kinase proteins. ERK 1/2 kinases control expression of other genes and are activated by addition of a chemical phosphate (referred to as "phosphorylation"). The reduction of phosphorylated ERK in mice lacking maternal Ube3a is significant as ERK activity is well known to be necessary for synaptic plasticity and formation of  memories. Thus, this may be a mechanism that contributes to reported deficits in synaptic plasticity and cognitive function in AS mice and in patients with AS.
Taken together, the findings provide new insight into both the expression of Ube3a by neuronal activity and also Ube3a's potential role in synaptic plasticity. In the future, targets of ERK1/2 can be explored to identify potential "druggable" targets to explore for AS therapeutics. The findings also highlight the need to explore the mechanisms that control expression from the paternal chromosome. These may reveal additional ways we can utilize to increase the levels of UBE3A in individuals with AS, but should also be taken into account with current efforts to reactivate the paternal allele.
To read the abstract on PubMed, click here.
1. Human housekeeping genes, revisited. Eisenberg E, Levanon EY. Trends Genet. 2013 Oct;29(10):569-74. PMID:23810203
2. Activity-dependent changes in MAPK activation in the Angelman Syndrome mouse model. Filonova I, Trotter JH, Banko JL, Weeber EJ. Learn Mem. 2014 Jan 16;21(2):98-104. PMID: 24434871
3. The Angelman Syndrome protein Ube3A regulates synapse development by ubiquitinating arc. Greer PL, Hanayama R, Bloodgood BL, Mardinly AR, Lipton DM, Flavell SW, Kim TK, Griffith EC, Waldon Z, Maehr R, Ploegh HL, Chowdhury S, Worley PF, Steen J, Greenberg ME. Cell. 2010 Mar 5;140(5):704-16. PMID: 20211139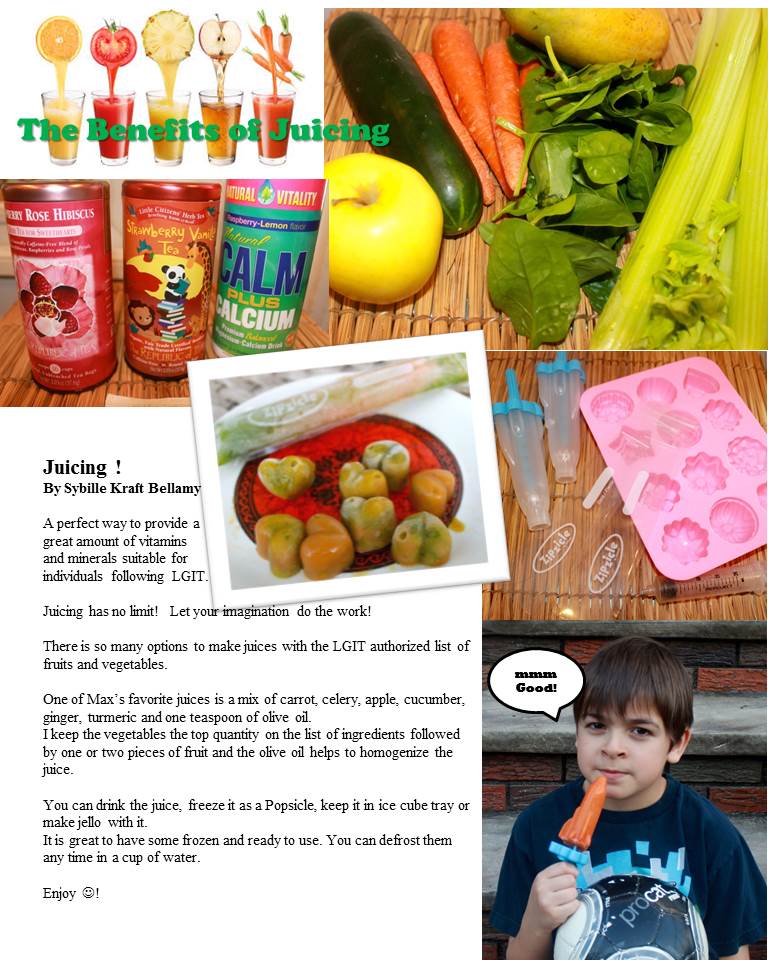 Juicing !
By Sybille Kraft Bellamy
A perfect way to provide a great amount of vitamins and minerals suitable for individuals following LGIT.
Juicing has no limit!  Let your imagination do the work!
There is so many options to make juices with the LGIT authorized list of fruits and vegetables.
One of Max's favorite juices is a mix of carrot, celery, apple, cucumber, ginger, turmeric and one teaspoon of olive oil.
I keep the vegetables the top quantity on the list of ingredients followed by one or two pieces of fruit and the olive oil helps to homogenize the juice.
You can drink the juice, freeze it as a Popsicle, keep it in ice cube tray or make jello with it. It is great to have some frozen and ready to use. You can defrost them any time in a cup of water.
Enjoy!
Bye-Bye Winter Hello Summer!
By Sybille Kraft Bellamy
We are done with snowstorms, freezing rain and below zero temperatures. Now it is time to enjoy the warmer weather.
Unfortunately our children with AS are not well prepared for the hot temperatures. Max, 12 years old, deletion + is extremely sensitive to hot weather and humidity. To avoid any serious health issues we have to ANTICIPATE.
Children and adults with Angelman syndrome have body temperature regulation problems. They cannot adapt to rapid temperature change or extreme temperatures. In Max's case he turns pale, his heart rate gets elevated and he becomes very lethargic. A major priority is to control his hydration. He needs to drink a lot.
Children and adults following a ketogenic diet cannot have sweet beverages. Everybody should have plenty of water with electrolytes. Electrolytes are essential for the normal functions of our cells and organs.
When the body temperature fluctuates the level of electrolytes becomes imbalanced, which can trigger seizures.
Trader Joes and Whole Foods both have bottled water with electrolytes. It is good to keep a reserve of bottles in your freezer and fridge. We buy electrolytes that come in individual bags. They are easy to transport, we keep some in the car, in our bags and at school.
For children who don't want to drink and/or if they don't feel thirsty you have to find what will trigger the desire to make them drink. It can be temperature related. Some of our children prefer when it is cold or warm. Some like to drink in a cup, with a straw, or a sports bottle. You can also use organic unsweetened Jell-O to thicken the fluids to avoid choking problems and for children with sensory issues. Herbal teas are great for a base, like mint or orange blossom and you can add the electrolytes to the tea.
You can drink, freeze or use the tea with Jello as well. In case of emergency we use a large syringe and squeeze it in his mouth with the mixed electrolytes. It is messy but funny! The syringe is a great way to get children to drink. Bath time is also a great time to introduce it as they think it's a game and there is no mess.
On the side of hydration we are always concerned about the bus ride, especially coming back from school when the temperature is the highest. We bought a cooling jacket which is comfortable and great for car travel, park and beach. If you can, avoid the warmest time of the day for outdoors activities.
For children in school you must specify on their IEP it is a priority that the bus has air conditioning. Some States may not require all bus companies to have all their buses provide air conditioning. However, when it is in your IEP they must comply so make it a priority and be in touch well in advance before the hot weather hits. If your child has an extended school program during the summer you may want to contact your case manager to be sure it is the same bus company and if it isn't remind them of the IEP specification concerning the air conditioning. We had a bad experience with a new bus company and we had to keep Max at home until they provided us a bus with air conditioning.
If your child is showing signs of heat exhaustion you must react quickly to avoid heat stroke, which can be a very serious medical emergency situation. Undress your child and sponge bath him with room temperature water, avoid big temperature changes, too cold can be a trigger for seizures. Use a fan or stay in a room with air conditioning. Start rehydration with small amount at a time with a spoon, cup or syringe. Be sure to use electrolytes or home made options. Check the body temperature, when your child is feeling better you can give him a bath. If you do not see improvement in the next hour you should seek medical attention.
For more information about medical emergency check on the Angelman Syndrome Foundation web site for the webinar with Dr. Justin Grill on "Emergency issues with individuals with Angelman syndrome".
Angelman Syndrome Foundation  – Walk Announcement 
SOUL Electronics, a proud sponsor of the ASF Walk in 2013 is excited to return and offer a 10% discount off of its products for Angelman supporters.  When someone goes onto www.soulelectronics.com to purchase any products and enters in the promo code "angelman10" at checkout, 10% of what they buy will be donated to the ASF.  SOUL Electronics is the pioneer of the first true line of athletic headphones, designed for active lifestyles, and co-developed, inspired and rigorously tested by top professional athletes in the world – Tim Tebow, Usain Bolt and Brendan Schaub. As a global leader in audio consumer electronics, SOUL combines innovative technology from an award-winning team of engineers and durable, fashion-forward, high-definition headphones – at affordable prices – that uphold the brand's core elements of "Power. Clarity. Comfort."
(Picture from 2013 ASF walk – Orlando Florida)
How do I begin to tell everyone what this "Week Off" has meant to us.  It was way more than a trip of a lifetime. First off, having "experts" like angel mom Lisa Jamieson and the Hamms' PCA, William Twiner providing care for our angel Samantha turned out to be one the best experiences
 ever
.  Sam's aunties learned so much from William and Lisa.  What they left behind was knowledge, inspiration and motivation.  To start with, Sam fell in love with William immediatley!  Just to know that Sam was in good hands and being completely spoiled, allowed for us to really let go and relax.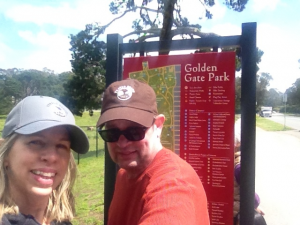 We had been in a pictello rut and stopped using it after some technical difficulties. Lisa made several pictello stories to document the week which Sam
really enjoyed sharing at school!  Since our trip we've increased our use of pictello and even included it in Sam's recent IEP.  Sam's communication is taking off!  During the last month, Sam has shown increased head nodding for yes and no, increased participation in morning meetings at school and increased use of her PODD book!   We have been working on all of this since last fall, but we have seen a huge growth spurt during the last month!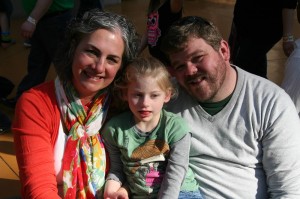 Lisa also shared a gluten free recipe that she suggested for Sam; French Toast Egg Bake.  I made it for Sam's lunch and Sam liked it so much that she nodded her head for Yes when asked if it was good and then used her PODD book to say Thank You!!!  Her para couldn't believe it, she wrote Sam's whole school team to document Sam communicating something other than a request or somethings wrong!  This is now a weekly staple! 
It's the little things like this that all add up.  William and Lisa have helped
to 
provide opportunities for Sam to communicate about things that matter to her!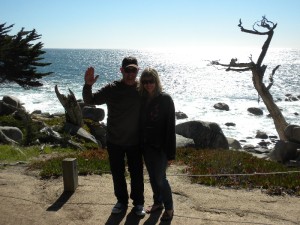 And now about our amazing trip of a lifetime! We had 3 nights in San Francisco and 3 nights in Napa Valley.  In San Francisco we went to Alcatraz, rented bikes in Golden Gate Park , had dinner in the Haight/Ashbury area and went to a great little Mexican Korean dive and gorged on the best (and only) Kim Chee Spicy Pork breakfast burritto I've ever had!  We drove down to Carmel, golfed a little par 3 at Pebble Beach and then had lunch overlooking the 18th Hole of Pebble Beach (very exciting if your a golfer!)  Basically we ate our way through San Francisco (and drank our way through Napa!).   
Napa was a whirlwind!  We got to meet Yolanda Hamm shortly after we arrived.   There is just something about meeting other parents of angels.  This instant connection – knowing that they get it, the good, the bad and the ugly.   The time we got to spend with Yolanda was the best!  Yolanda went out of her way to make us feel like extra super special VIPs.     The whole weekend was beautful, romantic and special.   We got to see many different artists perform at various events.   Colbie Caliet perfor
m
ed at a vineyard while it was pouring down rain – gorgeous! Passenger, a new favorite, was amazing.  I danced like crazy to Fitz and Tantrums (apparently Yolanda has the incriminating evidence on video).  And then to end the weekend, Sarah Mclaughlin dedicated her new song Beautiful Girl to us and Angel Wings Foundation.  We will remember this week for the rest of our lives.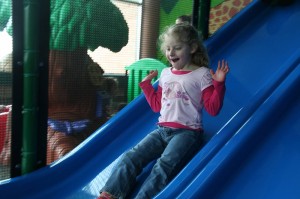 We really want to thank Reggie and Yolanda Hamm and Angel Wings Foundation for putting this dream trip of a lifetime together!  We hope that our experience will inspire others to support Angel Wings Foundation in the hopes that other families wanting a 'break' will have the same opportunity.  Even if you don't think you need a break, your angel
might think differently! 
  Thank you to William and Lisa for providing such loving care to our daughter Sam.  This week benefitted Sam just as much if not more!!! Thank you to my sisters Judy and Ann for staying at my house and helping take care of Sam.  Thank you to everyone involved with Live At The Vineyard for supporting this dream. Thank you Angelman Today for being a part of the dream!
Lo
ve
 (and big sloppy angel kisses)
, Mary, Rory and Sam