For those with complex communication needs it is important to participate in activities with their peers. This Halloween we wanted to share these FREE cards and stickers to help make things easier. When Trick or Treating this year, your child can hand the cards to the person at the door or wear the adhesive badge on their costume. Download and Print for FREE! Share with your friends!
We used Avery Adhesive Flexible Name Badges. Easily order from Amazon.com and get delivered to your door.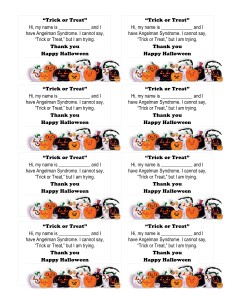 Download the Avery adhesive labels here: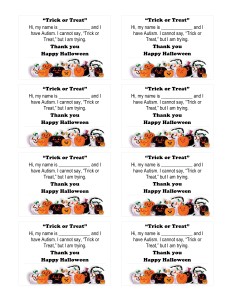 Avery Adhesive label 8 per sheet-Angelman Syndrome
Avery Adhesive label 8 per sheet-Autism
Download the cards here:
Trick-or-Treat Cards – Angelman Syndrome
Trick-or-Treat Cards Autism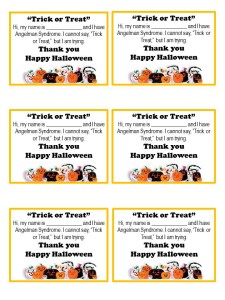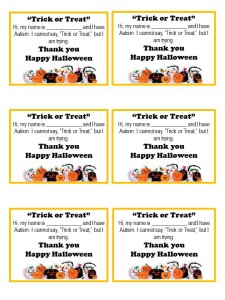 For Going Back To School
"The movie that will change the way people think about eating"
-USA Today
THAT SUGAR FILM is one man's journey to discover the bitter truth about sugar. Damon Gameau embarks on a unique experiment to document the effects of a high sugar diet on a healthy body, consuming only foods that are commonly perceived as 'healthy'. Through this entertaining and informative journey, Damon highlights some of the issues that plague the sugar industry, and where sugar lurks on supermarket shelves. THAT SUGAR FILM will forever change the way you think about 'healthy' food.  -thatsugarfilm.com

Going back to school may bring germs and illness.
Here are some tips for staying healthy.
Drinking lemon water daily has many great benefits:
*High in vitamin C which helps boost the immune system
*Reduces fever naturally
*Breaks down congestion
*Helps a sore throat
*A digestive aid, relieves constipation
*Detoxifying
*Balances PH
Forget about the regular ol' OJ from concentrate and all the added sugar in the morning and try lemon water.
Editor's Picks-
For prevention during the cold/flu season we boost the immune system naturally. Here is what you will find in the Editor's cabinet.
By Regie Hamm, Founder of the Angel Wings Foundation
ANGELS WEEK OFF!
Last year, the Angel Wings Foundation hit upon a novel idea. How about giving someone a vacation? Someone who could really use it …someone who deserves it …someone who might actually need it to re-set their lives. Well, we did just that and it worked out better than we could've ever imagined.
So this year we're doing it again! One deserving Angelman family will win an all expense paid vacation to a music and wine event in Napa, California called "Live In The Vinyard."
We realize that this isn't scientific research or new breakthrough therapy techniques or an awareness campaign. All of those things are certainly vital and crucial to our collective journey as Angelman parents. We cheer them on and support them wholeheartedly. But we at the Angel Wings Foundation want to wrap our arms around the Angelman community and give hugs wherever and whenever we can. We know how fatiguing constant caregiving can be. We also know how isolating it can be for the Angel to only see the same people day in and day out. So this "Angel Week Off" is just as much for the Angels as it is for the parents.
We will send in a male and female caregiver to the family's home to give the Angel a week off as well. Activities will be planned every day that don't include mom and dad. After all, everybody needs a break from mom and dad sometimes. Besides, mom and dad will be getting a massage or golfing or horseback riding or drinking wine and listening to music somewhere in Northern California!
So here's what you do …write an essay (500 words or less) describing your Angelman journey. We all have one and they are all deserving of a great vacation. But we can only do one at a time right now …sorry. An all-star panel of judges will read the entries and narrow them down to a top 5. The they will re-read them and ONE family will win the vacation.
Email your essay to: AngelsWeekOff@angelmantoday.com
The panel consists of people from Make-A-Wish, Best Buddies, Special Olympics, Angelman Today and one board member from the Angel Wings Foundation. I don't read them. I just get to call you and tell you you've won …I love that part.
All entries must be in by Thanksgiving Day, 2015. A winner will be chosen and announced on Christmas Eve …what a great Christmas gift! Then, we will start making arrangements for the vacation that will take place in April of 2016. A family member or designated care giver (in charge) must be present with our caregivers. So keep that part in mind. Safety first!
Last year's winners, Mary and Rory, were so moved by the experience they have asked if they can donate to this year's winner. I think that speaks for itself. They sent this video to encourage everyone to enter.

Hopefully one day, we'll be able to do this many times a year. But for this year, we can't wait to read the entries and award some amazing Angel family a break and a time they will never forget.
We love you all. Now get to writing!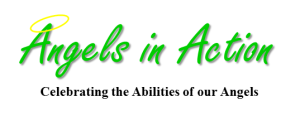 Dylan is 7 years old and LOVES riding his new bike! He received it from another Angelman family at the DC walk in May. He enjoys riding into curbs and also riding up into the neighbors' lawns. He gets a big kick out of it!
Dylan also loves riding his therapy horse Lark, doing anything outsid
e, playing in water, watching TV/movies, Curious George, Thomas the Train, Disney, and being around other people. He is very social and makes friends everywhere he goes. He does not know a stranger and gives hugs and kisses to everyone. He loves his family and they all love him to pieces.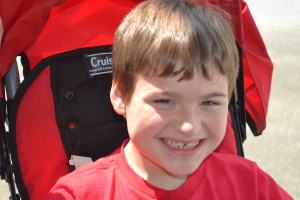 Dylan will be in first grade this year and enjoys being with his teachers and classmates. He is driven to school each day, but gets super excited to see the buses in front of the school. It is hard to walk him past them to get him to class!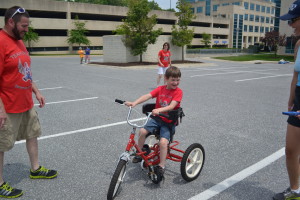 Once you meet Dylan, you
will never forget him. He has that affect on people – his laugh is infectious and his smile could light up the night sky. We are so blessed to have him in our lives.
From Bergamo to Rotterdam: Studying  Angelman syndrome.
Associazione Angelman Onlus is financing a four year research grant of 120 000euro.
The Italian Associazione Angelman Onlus, based in Bergamo, is financing the grant of a doctorate student's research into the syndrome of Angelman.
The funding will last four years.
Monica Sonzogni, a young Italian molecular biologist will work at the Erasmus MC in Rotterdam under the supervision of Prof. Ype Elgersma.
Associazione Angelman Onlus will fund 30 000 euro (120 000 euro in total) which will finance the study.
This will be coordinated together with the Research Foundation of the Ospedale Papa Giovanni XXIII in Bergamo.
The research grant is also supported by the Rotary Club of Treviglio and Pianura Bergamasca.
Associazione Angelman Onlus, founded  in Lombardy in 2012 , was the initiative of a family with two main objectives: bringing Angelman Syndrome to public  attention as well as that of the pharmaceutical industry and helping to support the genetic research into Angelman Syndrome.
"If I Need Help" and "Angelman Today" care so much about this community and the safety of individuals with Angelman Syndrome. Now we have partnered up to offer you this great giveaway!
-5 Winners will receive 4 patches.
-2 Winners will receive 2 custom shoe tags.
For 5% off your first purchase use Promo Code: Angelman Today

Enter to win – If I Need Help Giveaway