By Sybille Kraft Bellamy
The human digestive tract contains about 500 types of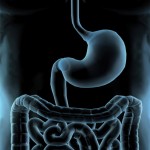 probiotic bacteria.
These "good" or "friendly" bacteria help support the growth and repopulation of the healthy gut flora in the lower gastro intestinal tract. They protect against "bad" or pathogenic bacteria and help the gut immune system to develop. Healthy bacteria also produce essential vitamins, which have an important nutritional value.
To keep our children's gut flora healthy and populated with probiotic bacteria, it is essential to give them a diet rich in prebiotic food. Prebiotics are non-digestible food ingredients, which feed the probiotic bacteria that live in our digestive tract.
It is key to vary food choices and offer a variety of gut boosting prebiotic ingredients to keep our children healthy. The more prebiotic food you offer the more probiotic strains bacteria they will have.
Studies show how children loose bacteria strains from the time they are born to the time they start eating solid food.
Too much sugar and not enough fibers in their diet weaken the gut flora, by lowering the diversity of the probiotic bacteria.
To improve your child's flora you can supplement their diet with a probiotic – one of my favorites is from the Theralac Company. It is highly recommended to alternate probiotic supplements and strains to obtain a more diverse flora. Make sure you check their quality and potency. They should be shelf stable, bile resistant and a good description of the strains should be provided.
The other easy way to keep the probiotics well balanced is through diet. Yogurts are excellent for those who can tolerate dairy. Goat and sheep yogurt have extra form of probiotics, lactobacillus, acidophilus, bifidus, bulgaricus, thermophillus. Make sure they are free of sugar, high fructose corn syrup and artificial sweeteners. Cultured butter and sour cream are great too.

Microalgae are another option. They are easy to include in your meals. Spirulina chorella, for instance, can be mixed with food. It has very little taste and cannot be detected. Organic Miso is also wonderful to prepare broth, soup and to cook with vegetables or meat.
A good choice of fruit, vegetables, whole cereals and legumes will provide the probiotic with the necessary energy to remain balanced. Insoluble fermentable fibers are not digested; they support the growth of the flora, enhance the immune system function and help calcium absorption.
Children receiving the LGIT must follow a well- controlled diet. The low amount of carbohydrates allowed must include a rich ratio of fibers.
I hope this information will support you and your child in having a successful year at school!
MediPal is an emergency seatbelt ID.
Immediate retrieval of medical information for first responders. Enter to win or order today at www.medipal.com
A new line of shoes designed specifically to address the needs of children wearing AFO's, DAFO's, and orthotics. Every Hatchbacks shoe incorporates a patented Rear-Entry hinge system called "Easy Fit" that's as simple as 1, 2, 3. The "Easy Fit" system is designed to facilitate ease of entry and egress from the shoe by pivoting open at the hinge. The shoe remains firmly closed by a Velcro fastener that is also very easy to use. www.hatchbacksfootwear.com
The SleepSafe® Beds are not only visually appealing, they also address safety issues in ways no other more traditional   institutional equipment can match. When choosing a SleepSafe® Bed, your loved ones will rest in a comfortable and safe environment, so with the advice from care giving professionals and listening to the needs of our clients, SleepSafe® Beds, has created a durable medical equipment (DME) safety bed, that meets or exceeds the FDA guidelines on entrapment and falls.
Family Conference – Dublin July 2013.
ASI were delighted to welcome Dr. Ben Philpot to Dublin recently,  whose trip afforded the opportunity to host a parent conference addressing research,  communication and community living. The day's three speakers   focused on topics which had been raised as areas of interest by parents.
Heather Crawford,  MBE,  lead professional speech and language therapist for South Eastern Trust, Northern Ireland  gave an insightful presentation throwing up as requested ideas new to a lot of parents, such as looking at what our AS children/adults need to communicate for and how to set communication boundaries to support non-verbal communication.
Dr. Ben Philpot, PHD and Associate Professor  Department of Cell Biology & Physiology, University of North Carolina's  presentation on the   current research  offered parents a clear  window to the high tech world of the path from the cell dish to  finding  compounds which may support therapeutic approaches  for Angelman Syndrome. His in depth presentation greatly helped us to understand the overall picture of current research and its challenges.
Heather Lynch and Siodhna Kavanagh's joint presentation from Camphill Communities offered a unique insight into the journey and opportunities this international organization can offer families though its 22 community based centres and projects in Ireland.  Heathers focus on the transition from post school to further educational and living opportunities gave food for thought to many parents who have not yet reached this point and this in fact is an area we will aim to return to at a later parent  forum.
 This parent conference was one of four regional workshops hosted this year by ASI and they provide a key opportunity for families to meet regionally as one parent commented –" with people who get it". As our speakers kindly sat though coffee and   lunch afterwards queries and questions were given an airing often not possible at larger events.
The sessions from the workshop are available to view on www.angelman.ie – Youtube with Dr. Philpot's being made available in the coming weeks.
Dr. Ben Philpot,  Siodhna Kavanagh (Seated), Heather Crawford and Heather Lynch.
For further information please contact Sara Hetherington at Admin@angelman.ie