Clinical Trial Begins on a New Treatment Using Cannabis for Intractable Seizures in Children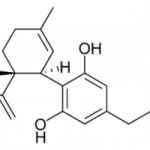 CANNABIDIOL (CBD), the non-psychoactive compound of cannabis
There is a study underway  to test the safety and efficacy of Cannabidiol (CBD), the non-psychoactive compound of cannabis.
Some of the experts involved are the Angelman communities' very own specialists Dr. Elizabeth A. Thiele and Dr. Ronald Thibert of Massachusetts General Hospital. Both Physicians are members of the Scientific Advisory Committee of the Angelman Syndrome Foundation.
The study will provide a better understanding of the  maximally tolerated dose and potential side effects of CBD as well as display its efficacy in two well-defined childhood epilepsy syndromes, Dravet and Lennox-Gastaut, which are very difficult to control even with medication.
Angelman Today will be following this study closely and will keep you informed.
For more info about this study go to: http://www.gwpharm.com/Phase1Epilepsy.aspx
Create your free online surveys with SurveyMonkey , the world's leading questionnaire tool.