Editor's Letter March-April 2015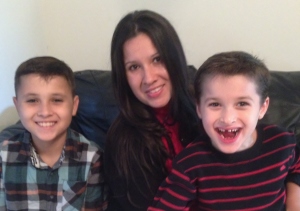 "Spring has sprung. Here in Florida the flowers are blooming and allergies are roaring. The beautiful weather in spring seems to inspire a sense of renewal and fresh ideas. The shamrocks in the grass always grab my attention for a second glance in hopes of finding a four leaf clover and capturing some good 'ol' "Luck of the Irish!". That was the inspiration for this edition.
I recently had the opportunity to chat with fellow Angel Mama Aisling Cullen from Ireland. I just adore the Cullen twin boys, Zach and Luke from Ireland. They are featured on the cover and in our 'Angels in Action' segment. Read about how Aisling describes their personalities and you too will adore them.
May the Luck of the Irish be upon you this St. Patty's Day and may you find inspiration from this edition and our wonderful community as you continue on this amazing journey."
Warm Wishes,
Lizzie Sordia
Editor – in – Chief
EMAIL: LIZZIE@ANGELMANTODAY.COM
FOLLOW: TWITTER.COM/LIZSORDIA
FOLLOW: TWITTER.COM/ANGELMANTODAY