Letter from the Editor May-June 2014 edition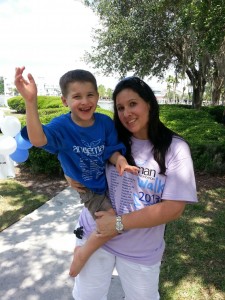 May is here and many of us in the US are gearing up for the annual walk for the Angelman Syndrome Foundation.  This will be my fourth year hosting the walk in Orlando, Florida.
After my son Nathan was diagnosed, our geneticist handed us some information about AS by the Angelman Syndrome Foundation. I quickly went to the website to learn as much as I could. When I learned of the annual walk that I could host in my area, I had to get involved. I wanted to meet other families and see other Angels. I did not know how I was going to pull it off, but I was determined and when I get determined… watch out!
I can hardly describe the feelings I felt when meeting so many families, hearing their stories and seeing the abilities of the Angels. After my first walk I had this overwhelming feeling of joy that helped heal a small part of me that was broken hearted about the diagnosis. I was happy to raise funds for research that not only is searching for a treatment but is discovering ways to help individuals with AS today, like treating seizures with the Low Glycemic Index Diet.
It is a true blessing when we can take time out of our crazy schedules and get together as a community and raise funds for any AS organization. I hope you all have a wonderful time.
Warm Wishes,
Lizzie Sordia
Editor – in – Chief