Special Tips for Traveling Families
By Eileen Braun, Executive Director of the Angelman Syndrome Foundation and mother to a young lady with Angelman syndrome.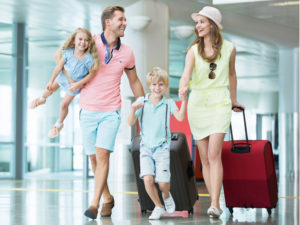 (taken from the previous article in Tips for Managing Holiday Stress, this needed to be its own article because it applies to more than just the holidays)
Medications and Medical Records
Gather your child's medications and a copy of his or her medical records. Make sure you have enough refills for the length of trip and a few days extra in case of inclement weather. TSA Cares blog – What to expect with flying with meds. You can also download the TSA Notification card.
Medical Equipment
If you are traveling with medical equipment such as a wheelchair or oxygen make sure to visit the TSA's web pages on medical devices and Assistive Devices and Mobility Aids. These pages will be very helpful in guiding you through security at your local airport. Call your departing and arriving airport to find out what guidelines they may have. Upon arrival, some of your checked medical equipment may be offloaded at a special baggage claim.
You may also need to contact your airline (by phone or web) to find out how they handle medical devices that are carried on board or checked in.
In Case of Emergency
In case of an emergency make sure you find a doctor at your destination that will be able to provide temporary care. Ask your pediatrician for a referral Safety – Wandering Individual
If your child is a wanderer, consider a temporary tattoo http://www.tattooswithapurpose.com/ or purchasing a child tracking device before you travel like Lok8U. In case your child becomes lost, it is helpful to have a recent photo and a written description of your child's special needs (Will she respond to her name?  Will he run away from strangers?).
Before You Head to the Airport:
Call the TSA
The TSA has a helpline for individuals with special needs. Call TSA Cares. Travelers may call 1-855-787-2227 prior to traveling with questions about screening policies, procedures and what to expect at the security checkpoint. When a passenger with a disability or medical condition calls TSA Cares, a representative will provide assistance, either with information about screening that is relevant to the passenger's specific disability or medical condition, or the passenger may be referred to disability experts at TSA. TSA recommends that passengers call approximately 72 hours ahead of travel so that TSA Cares has the opportunity to coordinate checkpoint support with a TSA Customer Service Manager located at the airport when necessary. TSA article on traveling with Disability and Medications
Small Bills
Whether it's the taxi, airport shuttle driver or the skycap, make sure to get all the help you can. Bring plenty of small bills to tip anyone who is helping you out.
Check-In at Home
Don't wait in another line at the airport! Print your boarding pass at home or check-in via your smartphone. Save yourself the hassle!
Have a backup plan
Weather, mechanical issues, missed connections or late arriving flights can wreak havoc on your carefully laid plans.  Make sure you make plans for a one hour delay, multiple hour delays or a complete cancellation. Have a social story ready that will visually tell your child about the delay and what may happen next.
Take a deep breath and smile 
You have spent time planning and preparing. The day is finally here. Take a deep breath smile and enjoy this special time with your family!
Helpful traveling products: