Angel Goes Packing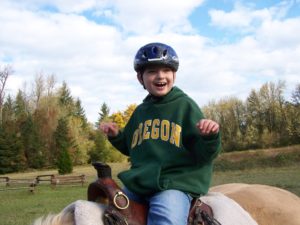 By Alisa Guilietti
Hi, my name is Nicolas and I am a 15-year-old who has Angelman Syndrome (AS). It's a rare genetic disease affecting my 15th chromosome. For me, it means I speak only two words rarely, my walking is unbalanced, I need help with a lot of my daily activities and I really like getting into things, so someone needs to be around me all of the time. I am also generally a very happy guy. I can't write, but my mom knows me pretty well, so she's writing what she thinks I would say if I could.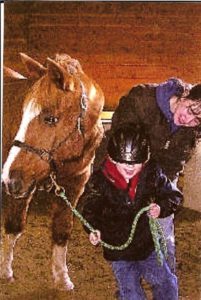 Over ten years ago, when I was four, our family learned about a place called RideAble, horsemanship for people with special needs. On the first day, I got to hold the reins of my horse, "Goldie", lead her to the arena and ride her. I loved it! I felt so big and independent! I have been taking lessons almost every week ever since. Not only am I having fun, but my muscles are working hard to keep me centered on my horse, I am learning how to make the horse go, stop and turn, and I am interacting with some great volunteers and instructors who love horses and are very committed to helping people like me. They keep my lessons interesting and change them up with new challenges. Sometimes they even have me ride bareback, backward! I really have to concentrate when I do that. My favorite part is when we trot!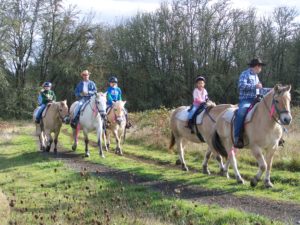 My parents attended a RideAble auction about 6 years ago and bid on a pack trip. My Papa and older sisters went with Matt and Becky Hope, who are members of the Emerald Empire Chapter of the Back Country Horsemen of Oregon, which covers the Southern Willamette Valley of Oregon. They are an equine group of riders protecting the ability to recreate on our public lands, Forest Service, BLM, County and State parks. They embrace trail work/maintenance, Leave No Trace education, trail advocacy, and youth programs. Basically, fun people who like horses, hard work and fun outside! They all had an amazing time on the trip and that fall they took our whole family for a trail ride at Elijah Bristow Park. It was so fun having my family ride with me. I got so excited seeing everyone up on horses, especially my Papa.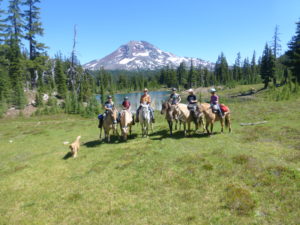 Something clicked with our family and theirs, and we have been riding together ever since.
My Papa and three sisters have been on a few pack trips with Matt and Becky. Matt said a couple times, "We need to get Nicolas and Alisa out there on a trip". I was pretty much for it because I like to try new things and am a good sport. My Mama was a little hesitant. Sometimes taking care of me can be a lot of work and I think she wasn't sure if it sounded fun and worth the effort.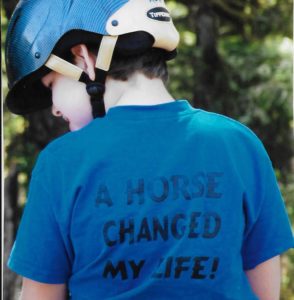 With planning and encouragement, the day finally came. We packed up all the horses and rode eight miles into Buck Meadows in the beautiful Three Sisters Wilderness. Me and my horse were ponyed so we didn't get off course. We had a few obstacles on the trail riding in and out. There were a lot of trees down so we had to stop, assess our options, ride cross country, then get back on the trail. Sometimes there were logs we could jump and others we went under and had to duck our heads. We went slow and I had to pay attention. We also encountered some bee nests. The horses don't like being stung so they usually start running to get away from the bees when this happens. It's pretty exciting!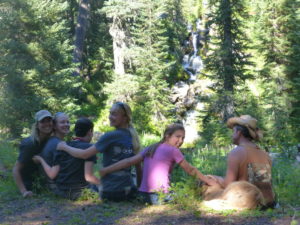 When we arrived at the perfect spot, everyone worked to get camp set up, because we'd be staying there for the next 4 nights. They even packed in a sturdy chair for me to sit on. Over the course of the next few days, we went on some awesome mountain trail rides in meadows, near lakes and waterfalls and got really close to the mountains. Matt and Becky are super cool and fun to be with. Nothing really phases them and they are very organized and well-prepared.  The Hopes have a cool water filter system since we can't bring in water for everyone. We camp near running water so all the animals have access to it. Also, we all try to limit the amount of trash we have. We burn what we can, then pack out the rest. As you can see, it's a pretty organized operation.
Mealtime is a big part of our experience together, as we all love sitting around the fire, soaking up the amazing surroundings and enjoying a good meal. Food doesn't just appear on our plates; it takes some good planning and preparing since we have limited space. Becky and Mama planned ahead, froze a lot of food and did a great job delivering nutrition to us all. Everyone pitches in with getting the meals ready and washing dishes when we are done. I usually supervise!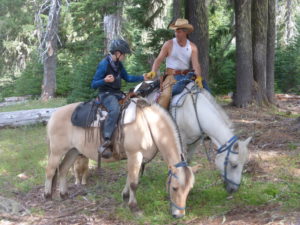 They have a wonderful group of Norwegian Fjord horses: Darwin, Ekko (who I ride), Thumper, Regney, Sy, Scout, Bo and their friend Flint. Quigley and Clancey are a great pair of Australian Shepherds and our Golden Retriever, Samson, has fun with them all.
One morning Becky was hanging out with me while everyone was getting ready for that day's ride. I was tired of sitting, and I wanted to get closer to the horses. Becky walked with me to each one of them so I could say hi. This is a great example of how good Matt and Becky are at including me and helping me interact with the horses.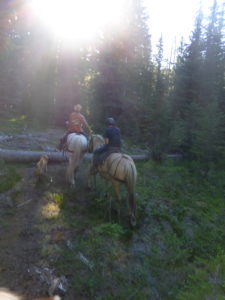 My family loves to be outdoors and hike, which is pretty hard for me. It's very cool that thanks to all these wonderful people and horses, we have found something we all love and can enjoy together in the great outdoors as a family.