Angel's Week Off Winners Share Their Vacation With Us
How do I begin to tell everyone what this "Week Off" has meant to us.  It was way more than a trip of a lifetime. First off, having "experts" like angel mom Lisa Jamieson and the Hamms' PCA, William Twiner providing care for our angel Samantha turned out to be one the best experiences
 ever
.  Sam's aunties learned so much from William and Lisa.  What they left behind was knowledge, inspiration and motivation.  To start with, Sam fell in love with William immediatley!  Just to know that Sam was in good hands and being completely spoiled, allowed for us to really let go and relax.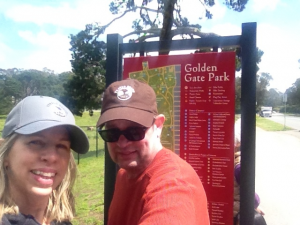 We had been in a pictello rut and stopped using it after some technical difficulties. Lisa made several pictello stories to document the week which Sam
really enjoyed sharing at school!  Since our trip we've increased our use of pictello and even included it in Sam's recent IEP.  Sam's communication is taking off!  During the last month, Sam has shown increased head nodding for yes and no, increased participation in morning meetings at school and increased use of her PODD book!   We have been working on all of this since last fall, but we have seen a huge growth spurt during the last month!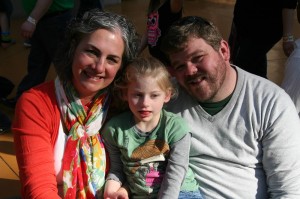 Lisa also shared a gluten free recipe that she suggested for Sam; French Toast Egg Bake.  I made it for Sam's lunch and Sam liked it so much that she nodded her head for Yes when asked if it was good and then used her PODD book to say Thank You!!!  Her para couldn't believe it, she wrote Sam's whole school team to document Sam communicating something other than a request or somethings wrong!  This is now a weekly staple! 
It's the little things like this that all add up.  William and Lisa have helped
to 
provide opportunities for Sam to communicate about things that matter to her!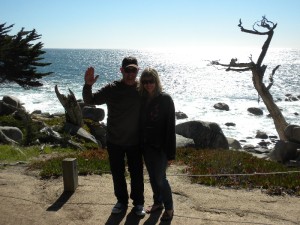 And now about our amazing trip of a lifetime! We had 3 nights in San Francisco and 3 nights in Napa Valley.  In San Francisco we went to Alcatraz, rented bikes in Golden Gate Park , had dinner in the Haight/Ashbury area and went to a great little Mexican Korean dive and gorged on the best (and only) Kim Chee Spicy Pork breakfast burritto I've ever had!  We drove down to Carmel, golfed a little par 3 at Pebble Beach and then had lunch overlooking the 18th Hole of Pebble Beach (very exciting if your a golfer!)  Basically we ate our way through San Francisco (and drank our way through Napa!).   
Napa was a whirlwind!  We got to meet Yolanda Hamm shortly after we arrived.   There is just something about meeting other parents of angels.  This instant connection – knowing that they get it, the good, the bad and the ugly.   The time we got to spend with Yolanda was the best!  Yolanda went out of her way to make us feel like extra super special VIPs.     The whole weekend was beautful, romantic and special.   We got to see many different artists perform at various events.   Colbie Caliet perfor
m
ed at a vineyard while it was pouring down rain – gorgeous! Passenger, a new favorite, was amazing.  I danced like crazy to Fitz and Tantrums (apparently Yolanda has the incriminating evidence on video).  And then to end the weekend, Sarah Mclaughlin dedicated her new song Beautiful Girl to us and Angel Wings Foundation.  We will remember this week for the rest of our lives.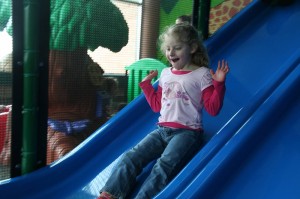 We really want to thank Reggie and Yolanda Hamm and Angel Wings Foundation for putting this dream trip of a lifetime together!  We hope that our experience will inspire others to support Angel Wings Foundation in the hopes that other families wanting a 'break' will have the same opportunity.  Even if you don't think you need a break, your angel
might think differently! 
  Thank you to William and Lisa for providing such loving care to our daughter Sam.  This week benefitted Sam just as much if not more!!! Thank you to my sisters Judy and Ann for staying at my house and helping take care of Sam.  Thank you to everyone involved with Live At The Vineyard for supporting this dream. Thank you Angelman Today for being a part of the dream!
Lo
ve
 (and big sloppy angel kisses)
, Mary, Rory and Sam