Making Shopping A Little Easier This Holiday Season
Making Shopping A Little Easier This Holiday Season


There are many challenges that come along with being a caretaker of an individual with special needs, including a task that for many may be simple, a trip that we all must do regularly, which is shop for groceries.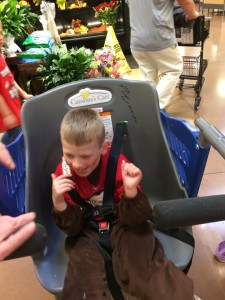 The best inventions are usually created from a persons desire to satisfy a need or to solve a problem they encounter in their own life. One set of parents did just that. Drew Ann and David Long have three children , Caroline is their middle child, she was diagnosed with Rett syndrome. The challenge came when Drew Ann went grocery shopping with her kids. She had a toddler and Caroline in her wheelchair. The problem presented itself as in the form of a question: "How do you push a wheelchair and a shopping cart?". Drew Ann had the answer. She was able to vision the cart and sat in her car and sketched it out on paper. She knew she was not the first to have this dilemma, nor would she be the last.
Caroline's Carts can now be found at some select retailers. You can visit www.carolinescart.com to find a location near you.
Parents, we need your help! We, at Angelman Today are calling for action. There are not enough stores with Caroline's carts. Parents, it is up to us. We are the ones that need them so we have to be the ones to request them from our local retailers. Some stores like Target, Shoprite, Publix, Lucky and Wegmans are starting to make them available. If they are not currently at a store near you just ask the manager. You will help not only your family, but the many other families that may not yet even know this helpful cart exists.