Angels in Action – Dylan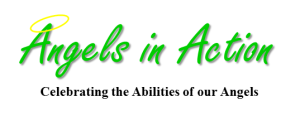 Dylan is 7 years old and LOVES riding his new bike! He received it from another Angelman family at the DC walk in May. He enjoys riding into curbs and also riding up into the neighbors' lawns. He gets a big kick out of it!
Dylan also loves riding his therapy horse Lark, doing anything outsid
e, playing in water, watching TV/movies, Curious George, Thomas the Train, Disney, and being around other people. He is very social and makes friends everywhere he goes. He does not know a stranger and gives hugs and kisses to everyone. He loves his family and they all love him to pieces.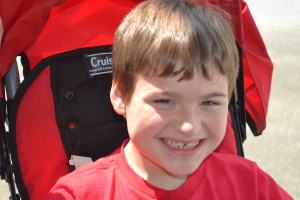 Dylan will be in first grade this year and enjoys being with his teachers and classmates. He is driven to school each day, but gets super excited to see the buses in front of the school. It is hard to walk him past them to get him to class!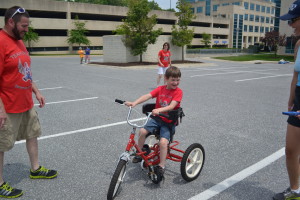 Once you meet Dylan, you
will never forget him. He has that affect on people – his laugh is infectious and his smile could light up the night sky. We are so blessed to have him in our lives.