Angels in Action – Kamaray
Celebrating the Abilities of our Angels
By Andria Sivill, Mom to Kamaray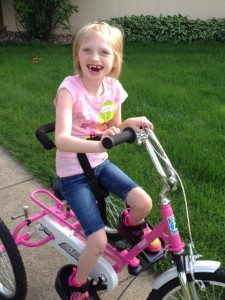 This is KamaraySivill, age 7 from South Sioux city NE riding her new adaptive TRIAID  bike she won through the Great Bike Giveaway.
Kami is enjoying her summer & new found freedomriding in the outdoors.
Thank you,
Bart, Andria &  Kamaray Sivill
In the previous March-April edition of Angelman Today, we helped to promote  The Great Bike Giveaway through Friendshipcircle.org and we are proud to announce a winner from our very own Angelman community!!