Angels in Action – Maddie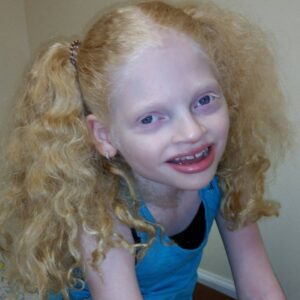 By Chris Starks, Father to Maddy, age 9
Madison Jordan Starks is our beautiful albino Angel that has truly blessed our family with her presence and her smile. Her ability to capture everyone's attention with her blue eyes and long curly blond hair is a wonder and the norm everywhere we go. Madison is deletion + and suffers from seizures only when she is either overly exhausted or has a fever. Although Madison can't talk and is limited on how long she can walk on her own due to her being visually impaired she has made great strides to become more independent. Maddy as she is affectionately known is the pride of her school and with the assistance of a strong team she has defied the odds by becoming more self-dependent with helping us dress her, trying to wash herself and feeding herself.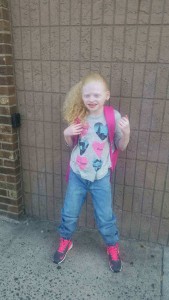 We watch her everyday amazed at the goodness of God, she has accomplished so much that the doctors and specialist said she would never achieve. She is truly an Angel on earth.
Madison enjoys long baths or anything involving water, she loves to eat muffins, mac & cheese, burgers, and mashed potatoes. Maddy loves watching Frozen and her favorite shows come on Disney Jr and Nick Jr. Her favorite toy is a basketball just like her daddy but above everything Madison enjoys music of all types. Her latest achievement is that we now both get to wake up to the sound of her voice calling mommy and daddy. We wake up with great anticipation of her next achievement. The sky is the limit.
Facts about Albinism in Angelman Syndrome:
-On a rare occasion deletion + individuals can have a second genetic disorder.  This disorder is OCA2 (also known as the P gene) located close to the AS gene that is also missing.
-Albinism in Angelman Syndrome is very rare and may occur in less than 1%.
-Severe visual impairment and increased incidence of strabismus is often reported.
References:
From Facts about AS, 2009 angelman.org
Dr. Charles Williams – Professor of Pediatrics and Medical Genetics