Poems by Darren Humphries
"We treasure the short time we had with Elijah" – Darren Humphries (Father to Elijah)
Elijah Humphries
February 2004  – August 2007
As I sit and write, it is a few days after my son Elijah's 7th death Anniversary. Elijah was born in 2004 and was diagnosed with Angelman Syndrome (Deletion Positive) in April 2006. Elijah died in August 2007 as a result of brain damage caused by seizures.
It has been a challenge for me and my wife Julie and daughter Francesca to learn to live with the death of someone we loved so much.
We treasure the short time Elijah was able to share our life together as a family. We are thankful for his impact on our lives and also on the many people all around the world.
We rejoice now and celebrate his legacy as he continues to touch and inspire even more people across the face of the planet. Being his Dad I feel like I have picked up his mantle and I am compelled to continue to share Elijah, his life, our journey, and our hope.
Part of his legacy is that I continue to be connected and engaged with the a worldwide family of those whose lives have been impacted by Angelman Syndrome. I stay in communication with these people through a variety of different initiatives and avenues.
One enduring memory of Elijah was time spent with his Lolo (his grandfather on Julie's side) and time we spent at a place not far from Christchurch called Akaroa. I remember the delight that he expressed when sitting on the beach and splashing in the waves. Whenever online I have seen countless pictures of other children on online doing the same thing.
When I saw the picture of Andrew Spence from Scotland on Facebook at the seaside engaging with the surf and the surf with him, it reminded me of Elijah and the sheer delight that I had witnessed first-hand on many occasions. As an artist I felt compelled to put into words, what I saw and knew was happening for him and his relationship with the sea.
At The Edge Of The Surf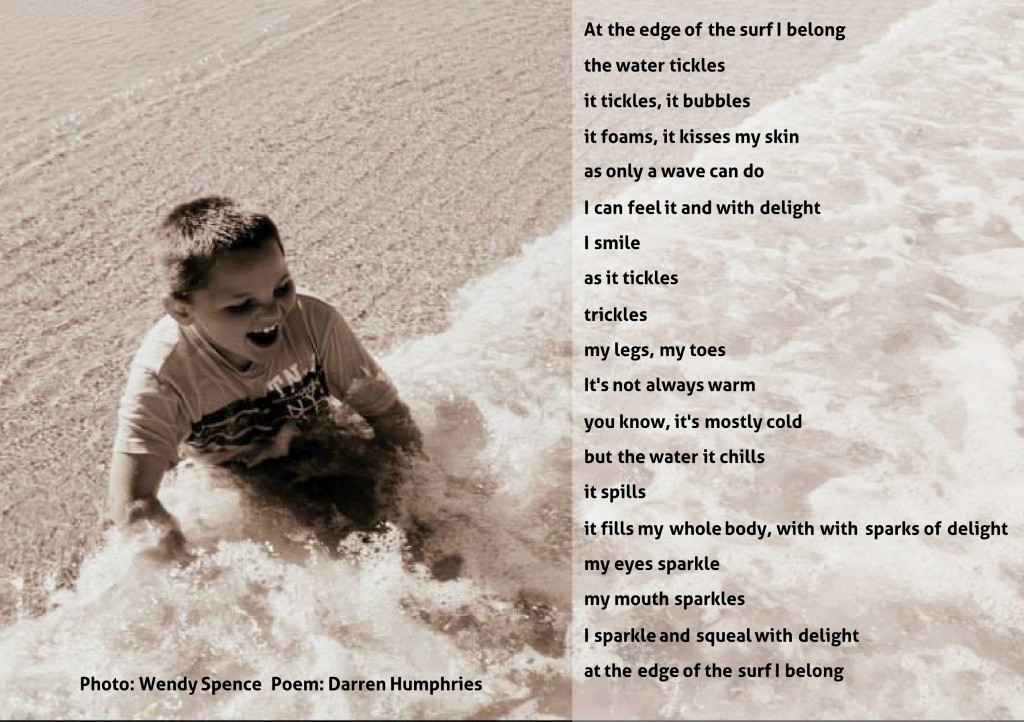 A Boy Who's Drawn To The Sea

I Could Sit Here For Hours